Favourite books for PLL – Animals Speak / Muu. Bee. ¡Así fue! / Le Réveil de la ferme
August 19, 2013
|
Posted in
animals
,
books
,
french
,
funny
,
multilingual
,
primary languages
,
primarylanguages
,
reading
,
spanish
,
stories
,
storytelling
*This is one of a series of posts about some of my favourite story books for Primary Language Learning*
When my boys were little, one of their favourite books was Moo Baa La la la; in fact, I can still quote it verbatim as I read it so many times! So I was pleased to see that there was Spanish version Muu. Bee. ¡Así fue!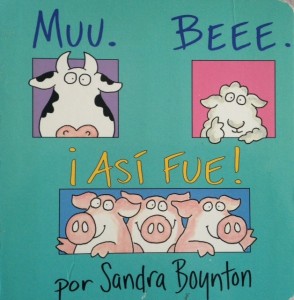 This simple rhyming book introduces the noises that animals make as well as animal names. I was pleased when I read it that it still (mostly!) rhymes in Spanish and that it features lots of animals that make different noises in Spanish. Or, as it's come to be put in my classroom
"Animals speak other languages too!"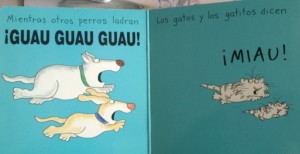 When we use this in class, after the initial reading learners want to join in with the animal noises – it is fun after all pretending to be a snorting rhino! – so I pause at the appropriate moment to allow for this before continuing. The final page  also invites the reader/learner to share what they say so can lead into a game of 'Adivina que animal soy'; learners take it in turns to pretend to be an animal by making the noise and the rest of the class have to work out which animal they are. This could be done with more 'control' by assigning learners animals in advance or giving them a mask. And a (noisy!) follow on activity could be for everyone to be assigned an animal from the story e.g un cerdo, una oveja, una vaca, un pato, un caballo, un perro; and their task is to find the rest of their family by making the animal noise  and listening out for others doing the same.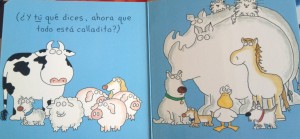 As I mentioned above,  "animals speak other languages' was the conclusion that was reached when we read this book, and when I presented at the ALL North East Spanish Day at Gosforth High School I was given this book which reinforces just that!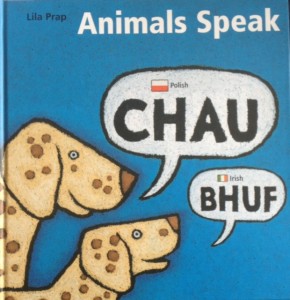 Whilst this isn't a book in the language that I teach (mostly Spanish) I love sharing this as, to me, language learning is about more than one language. It's about exploring and making connections, and sparking interest as well as celebrating diversity. This book has the English in the corner, and then one or two 'featured' languages on each page  i.e. the ones that animals say in their speech bubbles as well as a section in the opposite corner which shows another three languages.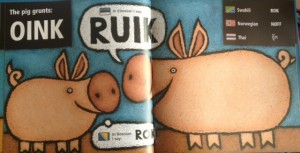 And in case you have trouble pronouncing the animal sounds, there is a glossary on the inside covers written "phonetically" to give you some help! My aim in using this book would not be to teach animal noises in 30+ languages but to look at similarities between the different languages, to consider whether we'd know which animal made that noise if we hadn't got the picture to help us, and why, and to perhaps look at the home languages of learners in the group.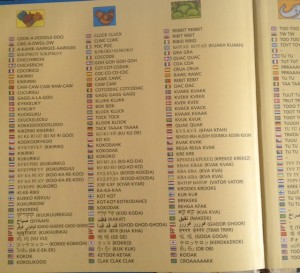 The idea that animals speak different languages just like humans seems to appeal to children; I wouldn't be surprised if there were pupils of mine across the world these holidays addressing animals in their 'native language' 🙂
And if you want a French book with animal noises – and nice touchy feely patches for stroking 'if you sit nicely!' – there's  Le Réveil de la ferme in which a little sheep dog goes around the farm greeting all his farmyard friends. He introduces them in a pair of rhyming sentences and then says Bonjour ………. before the animal responds with their call in French. At the end, he says goodbye to them all in a double page spread with all the animal calls in French (great as a reference point!)