About Lisa


Lisa Stevens
Primary language educator and consultant
Consultant and speaker on PLL, creativity and ICT

Apple Professional Development Consultant
member of Association for Language Learning (ALL)
TES Resources MFL panel member
and, most importantly, wife and mother!
What others have said about Lisa / @lisibo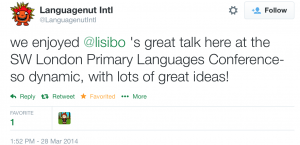 frogphilp     Steve Philp                                             26.11.13
Demonstrating why mfl teachers are the best, @lisibo sings to us in Spanish at #tmBrum. Did she really just do that?
Teacher from Zurich International School               23.10.12
"Thank you! Thank you! Thank you! The iPad session with Lisa was excellent. I left confident and motivated. I spent the evening playing with the various Apps and did a bit of exploring on my own.
Thanks to you, I have taken a few steps closer to iPad proficiency and my personal Professional Development goals. I even plan to use the iPads in class first thing on Wednesday morning for something other than reflection. Yeah!"
stevebunce    Steve Bunce                                                16.10.12
"A wonderful, passionate and enthusiastic educator. Lisa is my first contact for advice on modern languages and technology, especially using iPads. She has extensive knowledge and experience of using technology appropriately in schools. Always positive, she collaboratively works with teachers for fun and effective professional development. Lisa is consistently professional and very well regarded by other educators."
SylvieBRawlings    Sylvie Rawlings                              25.03.12
@lisibo loved your session at ICT Lang conference. Using iPads a lot in years 5 and 6 and they love it. Lots of songs. Thanks.
bellaale  Alex Bellars                                              04.06.11
"Lisibo – a.k.a. Lisa Stevens – is one of the reasons to have confidence in the future of Language Teaching in this country. Her work on Primary MFL is a fantastic source of inspiration to those of us seeking to advance the cause of languages in the UK. I lost count of the number of things I have tried on her recommendation LONG ago. Plus she's a right laugh, too! ;)"
dan_bowen Dan Bowen                                           27.01.11
@lisibo #ff more energy than CERN on weetabix and red bull.
charte Chris Harte                                                14.01.11
@lisibo talking about twitter pln at #tmtakeover – she is awesome
kevinmulryne Kevin Mulryne                                  03.01.11
For Primary languages, enthusiasm and loads of laughs, follow @lisibo in 2011!
mrshampson Claire Hampson                                  10.07.10
@lisibo your excitement is infectious, your pupils are v lucky to have such a fab teacher
dominic_mcg Dominic McGladdery
Lisa @lisibo has just started. She is ace and far too happy ;0)
dughall Dughall McCormick                                          09.04.10
I see @lisibo is described in TES as '…widely regarded as a trailblazer for ICT use in Primary Languages…' http://bit.ly/ciMPcS So true!
  kvnmcl       Kevin McLaughlin                                    01.04.10
@lisibo A leader knows when to stand back, offer advice and let others go forward. You are a leader in so many ways.
NeilAdam Neil Adam                                                         16.03.10
.@digitalmaverick gives big mention to @lisibo (and well-deserved too) #tmnaace (&@orunner says we haven't shut her up since
dawnhallybone dawnhallybone                             16.03.10
@digitalmaverick mentions @lisibo as inspiration for people speaking at TMs 🙂 she is an inspiration to us all 🙂 #tmnaace
orunner Doug Dickinson                                       15.01.10
@lisibo #tmbett2010 I would so want my grand children taught by you
spookingdorf Dale Jones                                          03.03.09
'The enthusiasm of Miss Stevens is infectious'. I see what @lisibo's headteacher means. I'm worn out just from sitting next to this energy
digitalmaverick Digital Maverick                                16.01.09
listening to @Lisibo @ #tmbett09 she really is a very very special lady an inspiration to every teacher in the country #amp09
feedback from AQA course London                            October 2010
Thank you Lisa for all the enthusiasm and energy you put into today and for the extensive content – BRILLIANT!