On Saturday I was once more at InstitutoVicente Cañada Blanch in London for the annual Talleres de español run by the Consejería de Educacción. It had only been 9 months since I was last there as the 2021 edition was postponed thanks to the C word and I was once more privileged to be asked to speak. More of that later!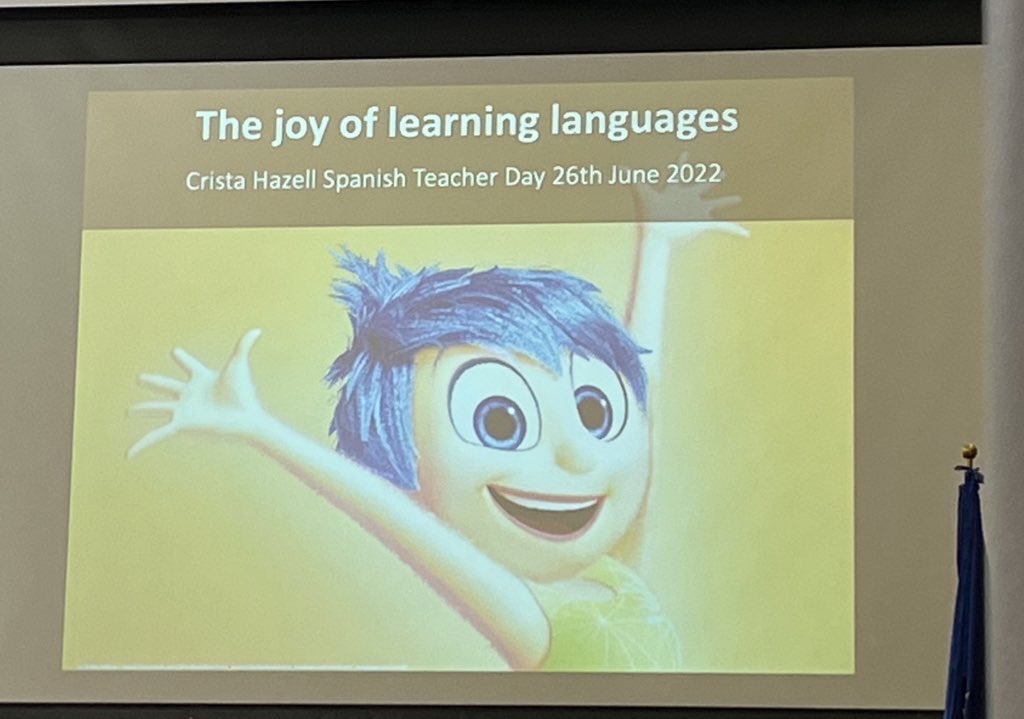 The day started with a keynote to get you thinking by Crista Hazell who talked about The Joy of Language Learning.
My tweets at the time summarise the bits I particularly liked:
Following this, I attended a marvellously active and fun session led by Eva Rodríguez Moya entitled «JugaÑol: el poder del juego como herramienta de aprendizaje» during which she shared a number of ideas and techniques that are used in her classroom to enable learners to recall and use Spanish as the language of communication. I loved the energy and pace of the delivery as well as the great ideas, and it was good to see that others use gesture as a key way of embedding vocabulary and structures. I will certainly be using "Hola Año x" with my classes – a simple way to keep the class on their toes. I recommend you check out Eva's presentation when it's available!
My presentation was entitled A few of our favourite things and highlighted as many of the things that my pupils say they enjoy as I could fit into my time slot! As is often the case, I had far more to say than there was time to share, and below you can find my slides (minus a couple that can't be shared which unfortunately means you can't see the videos of my class retelling El Nabo Enorme or reciting Doña Pito Piturra)
I did manage to share that I see myself not a Spanish teacher but as a languages teacher and that whilst the language in which my pupils should have made 'substantial progress' by the end of Y6 is Spanish, I am also teaching them how to be language learners which is just as important if not more so. What i ran out of time to share was the range of things that we do to celebrate languages as well as our amazing Erasmus+ project that is just coming to an end. Perhaps I can share that next time… hint hint 😉 You can see the slides anyway.
If you have any questions feel free to leave a comment. I'd be happy to answer!
Thanks to the rail strike I couldn't stay for the afternoon sessions but I did enjoy a lovely lunch and a good chat with lots of enthusiastic joyful people. at the end of the day, I shared the tweet below which I feel summed up my experience. Here's to the rainbow unicorns! 🌈🦄