#pracped15 – impressions and sketchnotes
October 21, 2015
|
Posted in
active learning
,
CPD
,
creative curriculum
,
creativity
,
crosscurricular
,
EAL
,
education
,
Ewan McIntosh
,
french
,
ICT
,
icu
,
ideas
,
languages
,
lisibo talks
,
MFL
,
new technologies
,
PD
,
presentations
,
reading
,
sketchnote
,
spanish
,
writing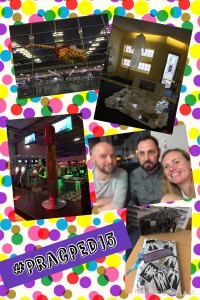 I had the joy and pleasure of going to France last week for the Practical Pedagogies conference at International School of Toulouse. It's not every day you get to go on a course that involves a 'plane journey, and I was wondering about the wisdom of my exploits as I sprinted from one side of Brussels Airport to the other with 20 minutes to make my connecting flight thanks to high winds delaying my incoming flight… I made it, and it was well worth the travel and the late night.
What a conference! Why? Well, there were many reasons!
The welcome received at IST was wonderful. The staff went out of their way to help us. For example, I tweeted that I was having plug adaptor woes (mine didn't have a 'top hole' so wouldn't go in the socket, the one loaned by the hotel wouldn't work either as my plug wouldn't go into it…) and within minutes I was presented with a working adaptor and was able to charge my 'phone (thanks also to Chris Mayoh who seemed to have a case full of adaptors that he was lending out!)
The organisation. Never have I been to such a well organised conference. Things ran to schedule, the gaps between sessions meant that you always had time for coffee even if you stayed behind to ask a question at the end of the previous one, and I never felt the vertigo I often feel as I rush from one place to another without breathing.
The company. What a great bunch of people! I laughed until I cried at points and enjoyed the friendship offered by those I already knew, those who I'd only previously known online, and those who were completely new acquaintances. Fun and games involving hats, Lycra, yards of beer and bowling alleys spring to mind.
Ewan McIntosh. That man has been so pivotal in my thinking and development as a teacher and learner, right from when he was still a language teacher and spoke at Language World at Oxford Uni. He will forever be known in my house as 'the man who made Mum buy a Nintendo DS' for which my sons are very grateful. Every time I hear him speak or read his blog he challenges me to think and consider what I do, how I teach and how I can best facilitate learning. And he is also very human and it's great to talk to him. Loved this description of him:
Two inspirational keynotes (plus a workshop) that were like rich Dundee cakes in content & depth of ideas from @ewanmcintosh at #pracped15

— Andy Day (@Andyphilipday) October 16, 2015
And  5. The variety of sessions was amazing! Covering any subject you could name plus cross curricular ones as well as technology and even ukelele playing. It was very hard to select just 7 (I was told I had to choose my own session) but I did.
To sum it up in a tweet:
Great ideas and lots of collaboration in a lovely location with wonderful people inspiring great thoughts and actions. And fun!! #pracped15

— Lisibo (@lisibo) October 18, 2015
  I tried to sketch note all the sessions I attended, only failing twice as I couldn't draw during the Drama workshop and it was hard during the AIM one as I needed to use my hands to gesture (and I'm also rubbish at drawing hands!) Anyway, I've uploaded my notes below.
All in all, an amazing time during which I've learned a lot and laughed a lot too. I hope there's a #PracPed16 – or 17 if Russel needs longer to recover 😉 – already planning what I might offer to present! (This year's offering is in the next post!)
If you want to find out more, check out Russel Tarr's reflections on the event, and notes etc are here
PS I think that every good school needs a 'crime scene' in the foyer complete with police tape, forensics suit and evidence. Talk about capturing the imagination!