How might I use Yo quiero ser – Nubeluz
April 21, 2012
|
Posted in
CLIL
,
collaboration
,
creativity
,
crosscurricular
,
embedding
,
KS1
,
KS2 framework
,
languages
,
literacy
,
MFL
,
phonics
,
PLL
,
primary languages
,
primarylanguages
,
secondary languages
,
spanish
,
stories
,
subtitles
,
videos
Thanks to Pat Sweeney on the Yahoo MFL Resources group for pointing out this group.
If you like Hi5, and you love a bit of 90s "cheese", you'll love Nubeluz.
As Pat writes –
"Many of Nubeluz's songs seem to be innocent good fun and definitely have catchy tunes that make you want to dance and sing along.
However, some "carry a message ". For example "Papi, deja de fumar!"
( Daddy, give up smoking!) or "Cuidado " ( Be careful!) which warns of being mislead by friends to get involved in things that are not right or good."
She goes on to pose a question –
"I would be very interested to know what people think of the songs and whether they would deem them suitable for using as teaching aids..and if so..with which groups..how?"
So…here are some ideas for how to use  Yo quiero ser
I think this would fit well with the topics People who help us or Jobs people do that are part of EYFS and KS1. I think that the chorus is the most useful part.
Activities you might do:
ask learners to identify the jobs they hear in the chorus. They are repeated at the very end so there are 2 chances to catch them. You might provide a tick sheet with pictures for younger learners or the names in Spanish for older ones.
make a pelmanism game with job images and names in Spanish for matching first then for playing.
cut the lyrics (chorus) into strips. Ask learners firstly to see if they can match the jobs with the description of what they do. This uses their LLS as they will look for cognates, make connections between the word for the job and words in the description and so on. Then they can check their answers by listening and watching again.
I might use Amara (was UniversalSubtitles) http://www.universalsubtitles.org/en/ to put Spanish subtitles on the video too. (See this example and also this post about how and why)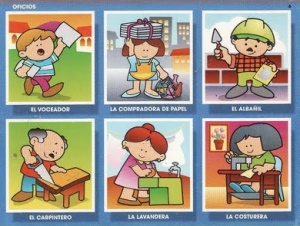 Moving away from the video, some further ideas –
So, Pat. Does that answer your question? 🙂