Non-fiction texts – Arts
May 29, 2017
| | |
| --- | --- |
| | Following on from my last post about a couple of non-fiction books I bought in Bilbao, I've decided to share some other non-fiction texts that I've collected over time. In fact, I've concluded that I need to do it in several posts as there are quite a few, so here is part one which includes some 'arty' books! By arty I mean to do with the arts not just about artists although there are quite a few that fit that category. |
Don Quijote – A Spanish Language Primer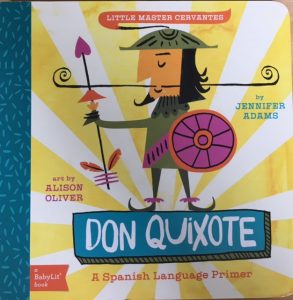 I bought this lovely board book last year to share as part of the celebrations of the 400th anniversary of his death- and that of Shakespeare. It is essentially a word book with the left page in English and the right hand page in Spanish and intended for very young children; however, used in conjunction with this song from BBC Bitesize ClassClips, it gave a stimulus to introduce and discuss the most famous work of Cervantes in a simple and unthreatening way.
Link to purchase: Amazon
ISBN – 978-1-4236-3875-9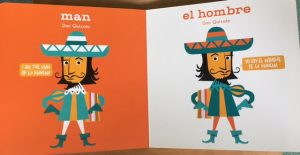 ---
Gaudí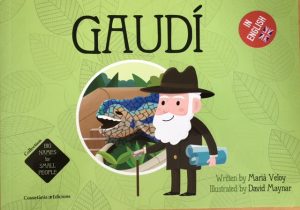 This book forms part of a series called Big Names for Small People and my copy is in English although you can buy it in Catalan  (and soon in Spanish – see the link below) I am a great fan of Gaudí and his story is so interesting that I really enjoy sharing this book with young learners porque si as well as in the context of our learning about Gaudí's artwork when we discuss shape and colour. It's also particularly useful for looking at timelines, chronology and working out how long ago things happened.
Link to purchase in Spanish: Amazon    Cossetània Edicions for the other books in the series
ISBN – 978-84-9034-414-9
It contains no words, but I also use Trencadís  with the above book. It's a wonderful sticker book with outlines that you fill in with stickers that are taken from photographs of Gaudí's original works so children get to be just like Gaudí without the mess of smashed crockery!
ISBN – 978-84-616-3706-5
And finally, before we leave Barcelona, here's a storybook in English that gives a flavour of the city through the eyes of two dogs called Poppy and Max. Poppy and Max – Holidays in Barcelona is a work of fiction but I thought I'd share it here as it's in context!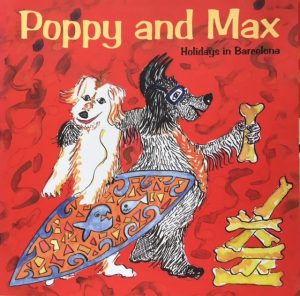 ISBN – 978-84-92745-31-9
---
Frida Kahlo (Colección Antiprincesas #1)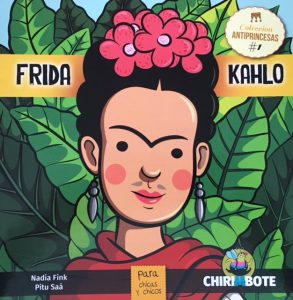 My final book (for now as I have more at school that I'd like to share!) belongs to a series that has attracted lots of attention and centre round the life and work of Frida Kahlo. It's completely in Spanish and whilst the chunks are fairly short, it's not the sort of book that you could expect children to pick up and understand without guidance. I like the small blue boxes that give definitions of key words like surrealismo and revolución, and also the stylised drawings of some of Frida's works alongside photographs and pictures of her actual work. A fascinating woman!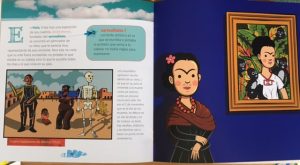 Below is a video of the book being read in English, and you can see it in Spanish by following this link  and forwarding to about 12 minutes. The link that promises a lesson plan based around the book is broken but I've tracked it down to here – it includes some excellent ideas not just based around the book but also around promoting women and being 'antiprincesas'.
ISBN – 978-987-33-9158-3
---
I hope this selection of books has been of interest. I'll share more in my next post, focusing on books with a scientific theme.