Another purchase on my travels to Bilbao was this book entitled Veo Veo.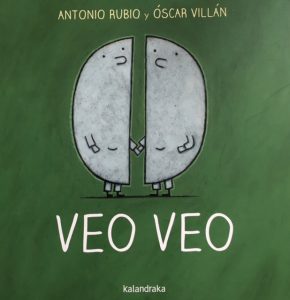 It's a really simple board book about two 'lunas' or moons that go for a walk to the park and play I spy. I liked it for the simplicity of the languages, for the repetition and also for the simplicity of the images.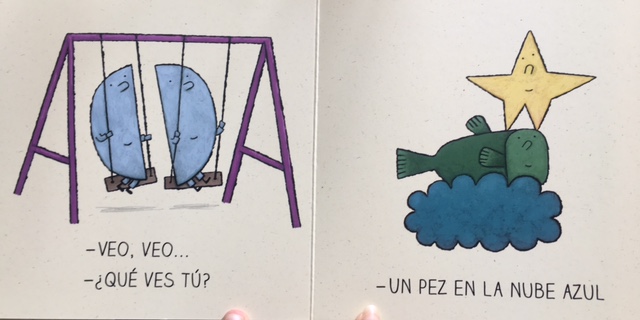 So how would I use it?
A book to read as the introduction to a guessing game: a number of images on the board and the leader says Veo Veo to which everyone answers ¿Qué ves tú? (the refrain in the book) before someone guesses which picture has been chosen. This limits the number of vocabulary items that need to be known to play the game.
As a variation on the above, the leader could say what letter the item begins with Empieza con … or say what colour it is Es (de color) …. or give other simple clues.
As above but using the whole rhyme that I shared in a previous post some time ago. (Sadly at the time of writing the link to the East Riding materials in the post is broken and I haven't managed to track down if they are still in existence. EDIT: Now updated as I've found it!) It's a call and response with the leader saying the parts in red and everyone else responding with the

blue

words before someone guesses.
Veo veo I see, I see,

¿Qué ves?

What do you see?Una cosita. A thingY ¿qué cosita es? And what thing is it?Empieza con la ……. It begins with ………

¿Qué será? ¿Qué será? ¿Qué será? What can it be? (x 3)

It could even lead into a Wake up Shake up style activity or PE warm up using the MiniDisco video below; I can see my KS1 classes enjoying being letters and waggling their fingers (and their bottoms!)
Getting away from the song/game Veo Veo, I also thought that the book would be a good stimulus for some writing.
The story has the 'lunas' seeing two items, one on top of each other, then on the next double page, a third item has been added underneath, and then another so that by the end there are five items:

Una estrella sobre un pez.
Un pez en la nube azul.
La nube sobre un ciempiés.
El ciempiés sobre un iglú.To limit vocabulary, you could provide a number of labeled images that pupils could cut out and stick in a tower as in the book. At the most basic level they could label the items and at the next level describe using simple prepositions like en and sobre in the style of the book: [noun] [preposition] [noun]
A little more complex would be to add some time conjunctions primero, luego, después, finalmente etc to sequence the items.
And to add extra difficulty pupils could choose their own items to arrange and describe, perhaps not restricting themselves to placing them on top of each other but also placing them a la izquierda or a la derecha, al lado de, entre etc to introduce further positional prepositions, and adding a verb to the sentence; for example, Hay un sacapuntas debajo del arco iris or La silla está al lado de la naranja.
The texts from the above activity could be used for listening activities with pupils sat back to back, reading out their description for the other pupil to draw before comparing images at the end.
Another listening activity would be with the teacher describing a stack of items (as in the book) from a bank of given images and pupils arranging the images according to the description. Or it could be a reading activity involving drawing or sticking the items.
Or if you're feeling adventurous and have a big space, what about giving instructions to place larger items in a tower (being careful of H&S of course!); this might be a good idea for a smaller group or club.
An added challenge for pupils would be to make the items rhyme with each other; for example
Una vaca debajo de una butaca.
Un payaso en un vaso.
Un sartén sobre un tren.
There's a PDF of rhyming words in Spanish here which is helpful as it gives meanings, and this post gives a download of some rhyming cards as well as more suggestions on rhyming word activities. More advanced learners could use Buscapalabras, but the meanings are not givens it's hard for a (near) beginner to choose suitable words for their sentence.
And finally, why not have pupils making their own books – using an app like BookCreator if you want to use technology or a mini book if you want to go 'analogue' – using all of the above, and perhaps having the own characters.
So, there are my ideas. Have you got any to add? Leave a comment below.