A visit to Foyles
September 26, 2018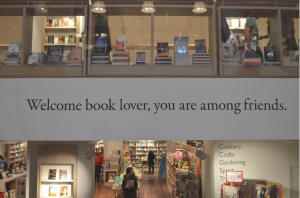 Yesterday I was in London for the annual ALL Council meeting, this year held at the Institute of Education. I deliberately set out early so that I could visit Foyles on Charing Cross Road as it now houses Grant and Cutler on the 4th floor.  To be honest I could easily have spent far longer than the 40 minutes I had on 4th floor alone, and there are several other floors that were calling to me as well, including the cafe!
However, 40 minutes was all I had and I spent it browsing books with several purposes.
Seeing if I could find anything to inspire my boys with their language learning
Looking for things for my own language development.
Looking for new and interesting materials to use in my teaching.
Given that Sohn#1 had just bought all his books for uni, and didn't really know what he wanted as a gift, coupled with the extortionate price of Swedish and Norwegian books, I failed to find him anything. Hijo#2 has just purchased all the books on list for A level French and I couldn't find any Spanish text books that a) we didn't already have or b)I thought were worth buying for him to self study so I didn't buy anything for him specifically either. However, that's OK as it reminded me of my copy of Harry potter á l'école des sorciers as well as reminding me to look out some Spanish texts from my past to lend to #2, and #1 has just had some books for the history part of his course.
So on to purpose 2 – my language development.
I can speak 6 languages with varying success from fluency to basic conversation, but I only really use two on a regular basis at the moment, teaching Spanish and speaking English. I don't like to neglect the others so I made some purchases, partly to motivate me and also to keep my brain in tune!
I studied Catalan at university (a loooong time ago) and, having not used it for many years, ten years ago I rediscovered my ability to speak it during a partnership between my school and a school in Barcelona. Since then I've not lost my love of speaking it once more, and over the summer I did a FutureLearn course on Getting to know Catalonia which reignited my need to read in Catalan.I'm eagerly awaiting for a promised FutureLearn course on Ramon Llull but in the meantime I purchased a dual language anthology of poems. I don't read enough poetry and I find it particularly exciting to 'hear' the rhythm of the language as I read.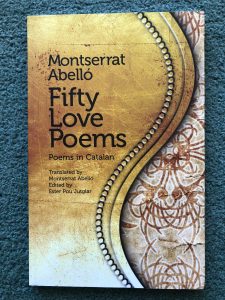 Since living in Switzerland I've been learning German; I've (nearly) stopped beating myself up about not having learned more while I was there and can certainly understand and often say far more than I think I can. Duolingo keeps me ticking over, although phrases such as Mein Kopf ist nicht aus Beton and Dies ist eine heilige Eule aren't that useful on a day to day basis, and I've fortunately not had to declare that Eine Wespe ist in meiner Hose. However, I think it's time I did some reading too. I have a collection of children's books (see here  here and here) including Mr Men books thanks to my MFL Besties Secret Santa, and Sohn#1 has left some of his books at home but I thought I'd try something a little less challenging before I embark on Kafka and Brecht! So I chose this dual text compilation of short stories to build my confidence as I can cross reference and check my understanding. I find that sort of exercise really helpful as I pick apart how sentences are constructed; I haven't really been taught about sentence structure and word order so it's quite interesting finding patterns for myself!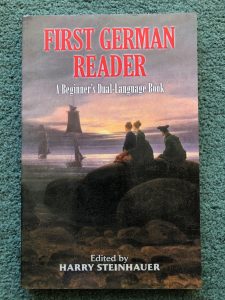 Then I decided that I'd like a couple more PixiBuch as I love them – they're small and also only £1.50. These overlap with my purpose 3 – to find new and interesting materials for teaching as I will use them when I start the long awaited and long postponed German club. Schneeweißchen und Rosenrot is a traditional German fairy tale and Du bist bei mir: Gute-Nacht-Gebete contains some lovely goodnight rhymes that sound marvellous in my head (where my accent is beautiful and perfectly German!)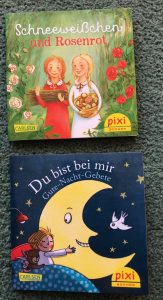 One of the SDP objectives for both schools at which I teach is reading. At both schools, staff are being asked to ensure that there are times in each day when children can read, and also a time for the teacher to read to the pupils.  Children need to be exposed to a variety of texts and their vocabulary grows the more they read and/or are read to. Therefore, I had a look for some suitable texts that I could share. I have a number of Mr Men books in Spanish and bought a couple more. The stories are familiar to the children so, in conjunction with the illustrations, they can follow. However, I'm a little concerned that they are quite wordy so was looking for something else too.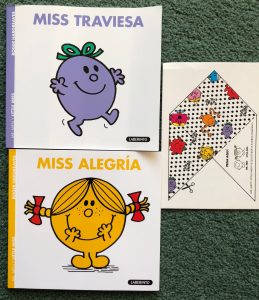 First I found this lovely book of fairytales. Each is just two pages long and starts with a page of 'pictogramas' that are used to tell the story in rebus form i.e. words are replaced with a picture. I'm looking forward to sharing them with Y3 – and the younger children when I get the opportunity as I'm pretty sure that they'll soon be joining in with the story, 'reading' the images.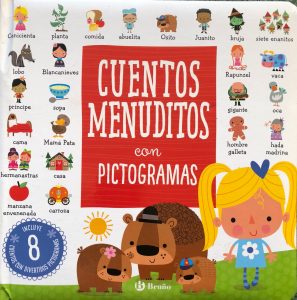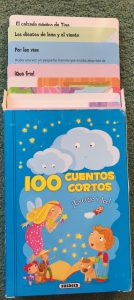 Then I found a couple of boxes of '100 Cuentos Cortos' that contain 50 cards, each with a short story on either side. The stories are very short – some only a paragraph long – so there's little time for children to get discombobulated by not understanding every word, and there'll be time to repeat them more slowly a second time to allow a greater chance of comprehension. The vocabulary is simple, and the illustrations are clear and give a good idea of the story. There are a variety of themes including weather, animals, different seasons and festivals, and some are based around traditional tales. I'll probably use these with Y4 and possibly Y5.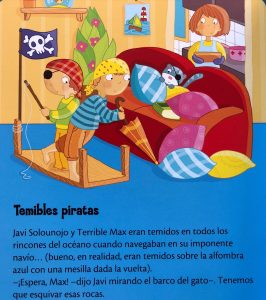 Finally I bought another dual language book for Y6 – El Principito. After the first few chapters that set the scene which will take longer than one session, the chapters are very short meaning that one can be read each lesson. The beauty of the dual text is that I can read the Spanish version then leave the chapter in both Spanish and English for children to read before the next lesson to clarify doubts, ensure understanding and, for some, dissect the texts.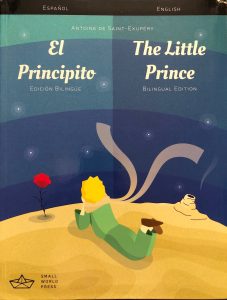 Perhaps I'm being overly hopeful about how well this will go, but they do say to Aim for the moon; even if you miss, you'll land among the stars.