I love visiting IKEA and wondering around the children's department as my attention is invariably grabbed by something I think I can use. It's not often that a  specific lesson is 'born' as I browse, however.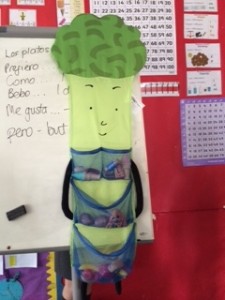 Meet Señor Brócoli. Our eyes met and I was inspired!
I saw his pockets and thought of using him like a food triangle , filling his pockets with play food. And a lesson was formed, which was a bonus as I had a lesson observation looming and this was perfect!
I had adapted a presentation by Rachel Hawkes that she had shared on TES Resources previously for use with Year 4 in their unit on healthy eating but felt that it would work well with Year 6's unit on food as well. The preceding week had been healthy eating week and we had made Wordles and Tagxedos of healthy eating vocabulary (they only had 40 minutes to find the words, type them in and print them so it wasn't in great depth!) That was the starting point for the lesson.