I love visiting IKEA and wondering around the children's department as my attention is invariably grabbed by something I think I can use. It's not often that a  specific lesson is 'born' as I browse, however.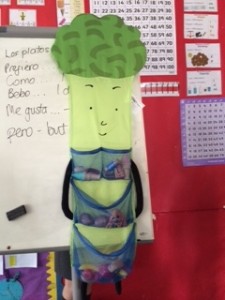 Meet Señor Brócoli. Our eyes met and I was inspired!
I saw his pockets and thought of using him like a food triangle , filling his pockets with play food. And a lesson was formed, which was a bonus as I had a lesson observation looming and this was perfect!
I had adapted a presentation by Rachel Hawkes that she had shared on TES Resources previously for use with Year 4 in their unit on healthy eating but felt that it would work well with Year 6's unit on food as well. The preceding week had been healthy eating week and we had made Wordles and Tagxedos of healthy eating vocabulary (they only had 40 minutes to find the words, type them in and print them so it wasn't in great depth!) That was the starting point for the lesson.
We then played 'ping pong' with food vocabulary, seeing how long they could keep the rally up.
Having gone over pronunciation, pupils used the vocabulary from slide 3 cut into slips to classify vocabulary according to certain criteria using Tesoro o basura sheet; feminine nouns, plural nouns and finally healthy foods were the treasure.
The next step was to consider what healthy means as it's not easy to decide definitively. That's where Señor Brócoli came in. Using plastic play food, pupils 'fed' him, placing food in his pockets. The pocket into which they placed their food item corresponded to the frequency with which you should eat it – top pockets are smaller and correspond to a veces, the middle pocket to a menudo, and the bottom pocket to todos los días. The pupils all wanted to take part and say the appropriate phrase in Spanish.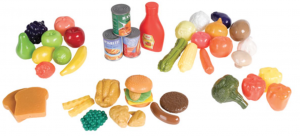 They then classified the food in the triangle (slide 7)
I assigned each table a text from slide 8 to read, and encouraged them to 'magpie' useful phrases. They compiled lists together and then shared them with other groups.
The final part of the lesson was to write their own short text using slide 10.
If we had had more time, slide 11 was the extension activity with pupils suggesting food to match the definitions.
Pupils really enjoyed the lesson and didn't want to go to lunch – and that's very unusual. And it proved to be an outstanding observation too.
Throughout the lesson pupils RAG-ed their work using the fruit scale  – ¿eres un tomate, una naranja o una manzana? That was a hit too; much more appealing than traffic lights!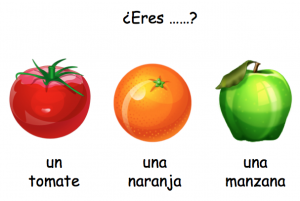 Señor Brócoli will appear again soon; Year 4 are looking at healthy lifestyles too!
Download the presentation – adapted from Rachel Hawkes' PPT and with Tesoro o basura from LightBulb Languages La_Comida_sana_y_malsana final
Download lesson plan sano malsano lesson