UnderstandingModernGov conference – June 16th 2015
July 26, 2015
|
Posted in
ICT
,
ideas
,
inspiring
,
languages
,
lisibo talks
,
literacy
,
MFL
,
mfltips
,
multilingual
,
PLL
,
primary languages
,
primarylanguages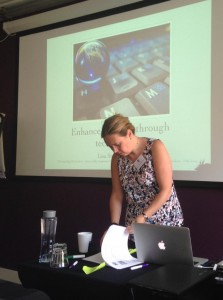 A little bit delayed by end of term madness…
On June 16th I travelled to London for a day long conference organised by UnderstandingModernGov on the subject of Primary Languages – "Successfully implement the new Primary Modern Foreign Languages curriculum". It was great to see Janet, Sylvie, Nadine and Julie, and to meet all the delegates to spend a day exploring how we can effectively plan, manage and deliver languages to primary aged pupils.
My part of the day was all about using technology; you can see the presentation below, and you can also access links to tutorials etc here.
I sketch noted all the sessions as you can see below.

Additionally, you can see what Janet said on her blog.
And here's the Storify of tweets from the day!