Tools for learning languages #lupgceict2014
February 21, 2014
I've spent today at University of Leicester talking to Primary PGCE students about using technology as part of a yearly event organised by Doug Dickinson aka @orunner. I took part in the original one and have missed the last two as I was in Switzerland so it was good to be invited back this year for the fourth year.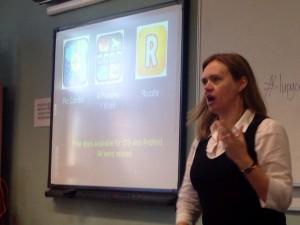 (Thanks to Oliver Quinlan for the very 'serious' photo!)
Below is my presentation and below that, some links to sites and apps I referenced.
4 Pictures 1 Word free app
PicCombo free app
Ruzzle free app
Padlet
Popplet – also app lite (free)  and paid (£2.99)
Storybird
BookCreator – app (free to try) and paid (£2.99)
PicCollage  app (free)
PicLit
Tellagami – app (free)
Morfo – app (free)
Voki
Any questions, please feel free to leave comments below or message me via Twitter @lisibo