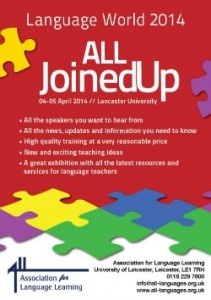 Following on from #ililc4, I'll be speaking at Language World.
This year it's entitled ALL Joined UP and is taking place at Lancaster University 4th-5th April. With a very broad programme on both Friday and Saturday catering for all levels of language learning from Primary to HE, it is always a conference that makes you think. I particularly enjoy the more academic talks as I rarely get to hear such things, but if that's not your thing, there are plenty of practical sessions to please you with ideas that can be used tomorrow.
And that should include the session I'm doing with Joe Dale and Helen Bates on Multimedia language learning with iPads 
More details are here including how to book for the conference and conference dinner on the Friday night.
Having missed the last two (I was in Switzerland!) I am especially looking forward to this year's event.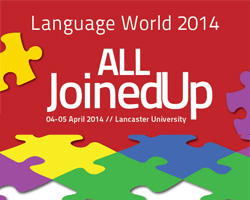 Here are posts of my presentations from previous years!
Language World 2011 – Entitled to enjoy primary languages
Language World 2010 – Bricklaying for beginners
Language World 2009 – Absorbing language learning
And some from sessions I've enjoyed (as far back as I can find that weren't ruined when the site was hacked)
Mini Olympic packs for primary languages (2011)
Progression in reading and writing (2011)
A narrative approach to storytelling (2011)
Languages and the Olympics (2011)
Liz Black Embedding languages (2010)
Claire Dodd Embedding languages (2010)
Reflecting on Language World 2008