eTwinning National Conference: 5th-7th June: NCTL #eTUK15
The first weekend of June saw the annual National eTwinning Conference take place at NCTL in Nottingham. Once more it was a weekend of learning, laughter and (can't think of another L) celebrating the wonders of collaboration across boundaries.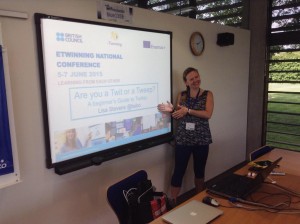 I spoke once more about Twitter – Are you a Twit or a Tweep? You can see my presentation here –  twitter nottingham – if you're interested! And there's an eTwinning guidance document as well: TwitterGuidelines (thanks to Erszi for the photograph!)
During the weekend, I continued to sketch note the sessions.
Below are my sketch notes interspersed with pictures and comments on the sessions!
| | |
| --- | --- |
| | Happy 10th birthday eTwinning! The cake was delicious too! |
| Dinner the first night in our regions – odd grouping but it meant that I got to chat with Helena. And special thanks to Kevin for being such an amazing sunshade when the setting sun got in our eyes 😉 | |