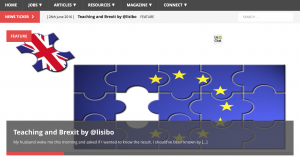 At about 1130am on Friday I was contacted and asked by UKEDChat if I wanted to write a guest blog post about the impact Brexit could/will have on language learning. I didn't write it straight away for several reasons not least that I didn't actually have time until very late that night to think. When I did, I wrote my personal reflection on the events and implications.
The post can be found on the UKEdChat website and the text is reproduced below:
My husband woke me this morning and asked if I wanted to know the result. I should've been known by his voice but when he said 'It was Leave by 52% to 48%' it hit me like a ton of bricks and I burst into tears.
My first thought was my friends and pupils and how some of them would now feel.
I am a language teacher and many of my friends and colleagues across the country are 'native speakers' e.g. French/Spanish/German nationals who teach their native language. Others fell in love and moved here to be with their partners. Some have lived in this country for many years and have never felt the need to go to the (not inconsiderable) expense of officially become British.  Many have British partners, children who have grown up here and consider themselves part of this country, working, paying taxes, contributing to their communities. They could not vote. You can read what one felt here.
The Referendum may have been about whether we stay in the EU or not, but the waters were unfortunately muddied by the issue of immigration.  As I turned on social media, my fears were confirmed. I wasn't in school but I know that several children were aware of what a 'Leave' verdict could mean for their families.
My job as a language teacher isn't just about teaching words, structures and grammar. It's about a context for that language, be it in Spain or South America, France, Belgium, Senegal. It's about culture, lifestyle, food that may be different to 'our' ways. It involves encouraging discussion of our differences to help us understand more about ourselves, and then the joy of seeing things from someone else's perspective, celebrating that we're not all identical.
Through eTwinning, Comenius, Comenius Reggio and Erasmus +, all funded by the EU, my school has changed over the last ten years to be the globally minded place that it is now.  Teachers have visited colleagues in Europe, we've received visitors and much work has been done online, via Skype and vieo conferencing.
So what will Leave mean?
My initial reaction was posted at 8:15am
This morning I am distraught. Can't put it into words but can I just say to my many friends who now feel unwelcome in the country that is their home – I love you. Farage, Gove, Johnson et al do not speak for me and my family. I don't know what the future holds but I know that as long as I have breath I'll still be championing cooperation, understanding, compassion and celebrating diversity. "We have more in common with each other than things that divide us.
Taking my eldest son to a university open day gave me time to think and reflect. My conclusion?
My task hasn't really changed. I will still teach Spanish the same way I always did. I will still see Intercultural understanding as a vital part of my role. I will still find ways to bring other countries into my classroom. It will be harder as there is uncertainty about what will happen to the wonderful programmes like eTwinning. As a school we will still celebrate the languages and cultures of our pupils as we did whilst people were voting in another building on our site. My son and others intending to study languages at university may find their year abroad harder to fund without Erasmus funding. I might get asked more often 'why do we learn Spanish; everyone speaks English!' but my answer will remain the same. If anything, I see my role as even more important than before. My son reminded me of the postcard that was on the shelf at the bottom of our stairs at home featuring the words of Nelson Mandela:
If you talk to a man in a language he understands, that goes to his head. If you talk to him in his language, that goes to his heart.
His point was that, given the number of treaties, agreements and the like that the United Kingdom  now need to renegotiate, language skills will be all the more important, a point born out by experience.
The Leave vote doesn't mean that we are no longer European.  I am European, speaking several languages, having lived in three European countries and that hasn't changed. Time will tell the full implications for languages and the global dimension; statements from The British Council and ALL make me more optimistic.  So whilst my tears have ceased, my determination has not and, judging by the comments on social media and in person, nor has that of my fellow linguists!