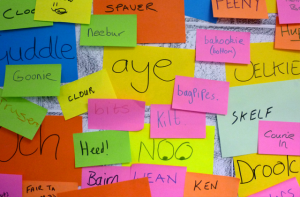 This summer we've spent part of our holiday in the Highlands of Scotland near Ullapool, a beautiful part of the world. For many years and even more so since we lived in Switzerland, the prerequisites for a holiday destination have been mountains, lakes or the sea and beautiful scenery, and we got that by the bucket load.
During our stay we visited The Ceilidh Place which is "a Hotel, Bunkhouse, Café / Bar, Restaurant, Bookshop & Music Venue based in Ullapool in the epic and beautiful surroundings of Wester Ross in the Scottish Highlands." Not only was the food delicious but there was the added bonus of being able to pop into the bookshop for a read whilst your food was being prepared. And whilst browsing I came across a section of books that I couldn't resist.
The bookshop boasts an eclectic mix of books with a Scottish bias, so I wasn't surprised to see that there was a special children's section of texts written in Scottish Gaelic, but also a selection of books in Scots, the other native language of Scotland. Find out more about Scots 
My Mum is Scottish, born in Glasgow. Sadly, you'd never hear the hint of a Scottish accent unless you either made her very angry or heard her say certain words like squirrel or if you happened to be called Luke. When I was little I thought it was because she moved to England when she was about 12 but she explained when I was older that it was because she was forced to lose her accent at school in Scotland, made to stand by the teacher's desk repeating the word milk until she stopped saying 'mulk.' However, my grandparents never lost their accents and their speech was peppered with fantastic words like dreich and claggie and peelywally. My favourite was the playful threat to 'skelp yer bahookie' if we didn't behave or telling me not to be such a 'fearty' when I objected to crossing a bridge!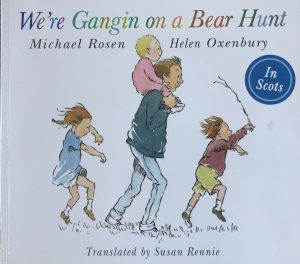 Therefore, I couldn't resist buying We're Gangin on a Bear Hunt as I could hear their voices as I leafed through the pages. for Mum to read with me. Even if you aren't familiar with Scots, if you're familiar with the story of Going on a Bear Hunt, it's easy to understand. I loved rediscovering words that I heard as a child like bonnie and braw, and 'we're no feart,' as well as learning some new ones like the parts of the face.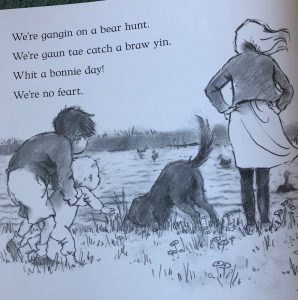 My favourite line is below "A birlin skirlin snawstorm' – my son can tell you all about a good Scottish snawstorm!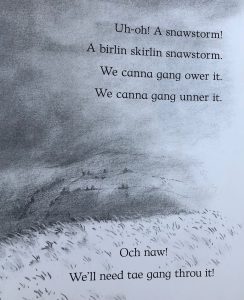 I'm very much looking forward to reading this with my Mum and seeing if my memory of how you pronounce the words is correct. If you want to hear it read, Susan Rennie (the translator) has made a Soundcloud recording. In fact, she has some resources and ideas including a glossary on her website. And there's an activity sheet on this page. And Twinkl has some Scots resources too if you wanted to explore more, perhaps as part of European Day of Languages, or in conjunction with reading Katie Morag?
If you're interested in more books in Scots, here's a list of publishers and suggestions, both original Scots books and those in translation like We're Gangin on a Bear Hunt.
ISBN 978-178250-316-3
Link to buy from Floris Books and Amazon