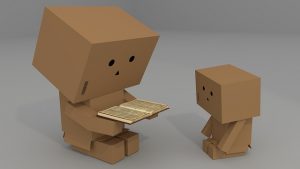 Continuing my posts on non-fiction texts, here are some suggestions of texts that you might use to engage those hard to please learners who need something a bit different to capture their attention.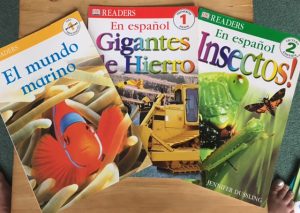 Firstly, some DK Readers that I bought a long while ago on Amazon. They come in several levels as you can see below, ranging from one sentence per page plus reinforcing illustrated vocabulary through simple sentences using repetitive language to the inclusion of information boxes and fact files and beyond.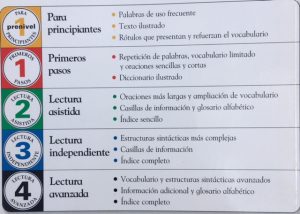 The three I have come from the lower levels as they were bought to be accessed pretty independently by learners, and are on topics that I don't specifically teach so the vocabulary is mostly unknown.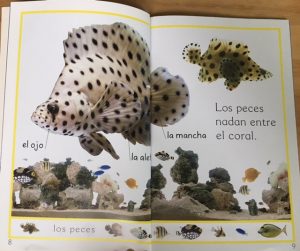 This is taken from El Mundo Marino which belongs in the lowest level 'prenivel 1 para principiantes' and I used this with Y1 last year when they were looking at the seaside. I read it to the class, focusing on the names of the things found in the sea rather than the meaning of the phrases. It was then left for reading during the week by anyone that fancied and also as an activity for those who finished quickly. Perhaps you could encourage learners to label a picture of a sea creature using the book as a reference?
| | |
| --- | --- |
The second book is called Gigantes de Hierro and was bought when I had a pupil who was obsessed with vehicles. I now know a little boy who would very much appreciate this book! It contains some great pictures and I found it fun expanding my heavy machinery vocabulary to include un camión de volteo, una aplanadora  and una carretilla elevadora. Of course, it's good for a bit of role reversal with learner teaching the teacher new words; just proves nobody knows everything! It's a good book to read with a child or to a group of children, particularly with the onomatopoeia!
And then there's ¡Insectos! which comes from 'nivel 2 Lectura asistida' and has some wonderful photographs of insects as well as interesting information. It's quite complex as it's a direct translation of the English version, but not impenetrable. For the page above left I might ask questions such as:
What is the name of that insect in English? Use the text to help you if you don't know.
We call it a praying mantis – do you think the Spanish name is similar? Why?
What do you think 'inmóvil' means? Why?
Can you find a word for 'huge eyes' in the text? (relying on them knowing 'ojo')
How do you say 'Its front legs trap the fly'?
Find the words from jump, trap, disappear
I like the fact file at the end too which,if anything, is the most accessible as the facts are so short. I'd have translations of each fact and ask learners to match them up with the Spanish as an extension activity perhaps, or as a little challenge!
If you search DK Readers Spanish on Amazon there are several including El Mundo Marino and Insectos although most come from the USA so beware the postage!
---
Deportes de riesgo – El vestuario de pegatinas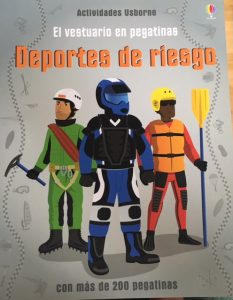 I bought this book at El Prat in Barcelona last year as I was about to embark on sports with a particularly feisty Y6 cohort and needed all the ammunition I could get to keep them with me for the last half term! Every time we learn the vocabulary of sports there are children, usually boys it has to be said, who want to say that they do activities and play games other than the 'stock' ones like football, rugby, basketball, swimming and horse riding. And why not? I'm forever encouraging learners to be imaginative and 'make it up' in Spanish lessons so I can't really object when they want to say that they go scuba diving or skateboarding. And this book covers, as the title suggests, some marvellously dangerous and unusual sports. It not only gives the name for the sport, but also talks about the equipment required which fits perfectly with the Light Bulb Languages unit that looks at sporting clothing and equipment to explore the definite and indefinite article. Again I wouldn't let them use the stickers on the pages but I'd use the stickers on card and cut out to 'dress' the sports people, or indeed use the central pages as a picture dictionary which is what I did last time I used it.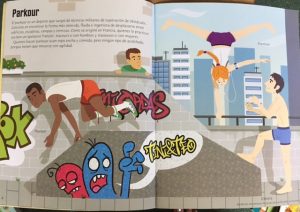 There are sports mentioned that I'd never heard of, and it's always good to find out the technical words in Spanish associated with sports. For example, someone who does el parkour is called un traceur or una trace use (all taken from French which is where it originated), un piolet is an ice axe and climbing chalk is polvo de magnesio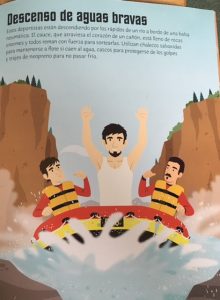 If I can bear it, I might even separate the pages of the book and use the pages as 'laminas' with questions associated with each, as well as reading activities to dress the people in the images according to written instructions.
One complaint about this book – there are four female sports people and over thirty male. Girls like dangerous sports too, Usborne!
ISBN – 978-1-4095-7265-7
Buy from Amazon and Ediciones Usborne 
---
My last collection of books in this post are from Mini Larousse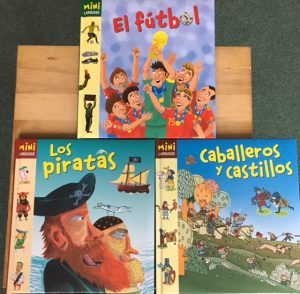 I love these books for a variety of reasons:
They're attractive with amusing illustrations that draw you in so can be enjoyed even if you don't understand a word!
The text is in Spanish handwriting which is again novel, adds something to the reading challenge and is a good way to add a bit of culture and 'authenticity' as well.
The texts are presented in short chunks using bold to pick out key words.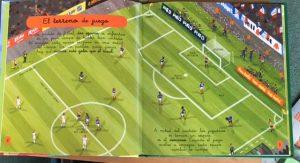 Being a football fan, El fútbol was the first one that I purchased, attracted by the cover that features La Selección winning La Copa Mundial with recognisable drawings of players (although Iker Casillas has strangely got very dark hair and a huge chin!) In fact there are players throughout the book that learners will recognise including Frank Lampard, Bufon, Gerrard and even Gary Lineker.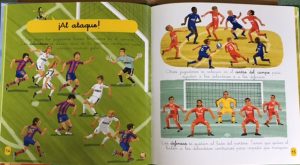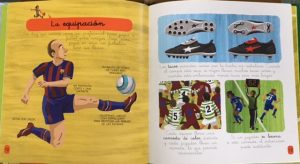 I like the combination of prose and labeled images, and the balance of images to text is about right to not put off reluctant readers in  UKS2. As with previous books, I'd be happy for learners to access them individually and use the pictures and their knowledge of football in conjunction with language learning skills to read as they wish. To offer some guidance you could produce a list of key words and phrases in English and challenge learners to find the equivalent in spanish, perhaps giving them the page number as a clue.
Caballeros y castillos is a book that Y3 would find interesting  as one of their topics is all about castles and involves organising an imaginary jousting competition, complete with stalls and 'betting' on the jousts (from Youtube!) The page able would be useful for finding the names of people involved in the joust, and the one below could be used as the stimulus to design and describe 'escudos' (a twist on the Y3 Spanish topic on shape and colour)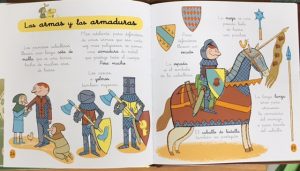 And then there's Los Piratas which is a bit advanced for the KS1 topic on treasure but great for reading for pleasure. Good to see some famous female pirates featured in this book!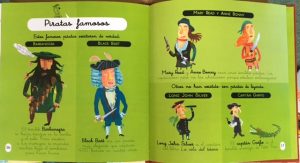 You can purchase El fútbol and Los Dinosaurios in this series from Little Linguist.
ISBN – 978-84-15411-16-1 El Fútbol
ISBN – 978-84-15411-14-7 Los Piratas
ISBN – 978-84-15411-18-5 Caballeros y castillos
Other books include El Universo, La Prehistoria, Los 5 sentidos and El Cuerpo Humano.
---
Any ideas you'd like to share? Leave a comment below!