*This is a book review as part of Multicultural Children's Book Day 2018 #MCBD2018*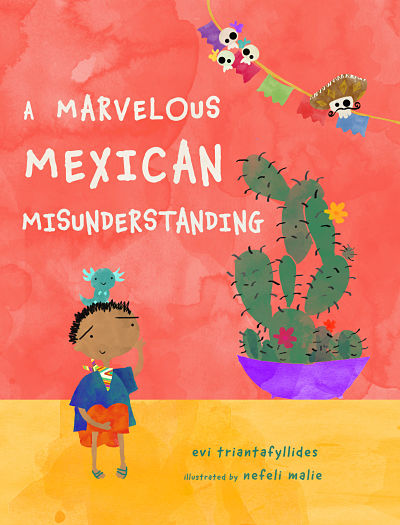 The Marvellous Mexican Misunderstanding is a delightful book about a little boy called Adri who  overhears his Mum and Aunt Chiquita talking about the Day of the Dead and gets completely the wrong end of the stick. He asks his sister Tani lots of questions about the Aztecs, the Day of the Dead but she mischievously decides to use his ignorance of the festival as a way of teasing him, and confirms his fears.  Over the seven days leading up to Day of the Dead, every visitor and every event seems to confirm his fear that he is going to die; the Dad brings him a skeleton costume for Halloween, the neighbour brings 'pan de muerto', his Mum makes his favourite food. On the eve of Day of the Dead, Adri writes letters to his family and prepares himself. Will the misunderstanding be unravelled or will Adri's fear come true? You'll have to read and find out!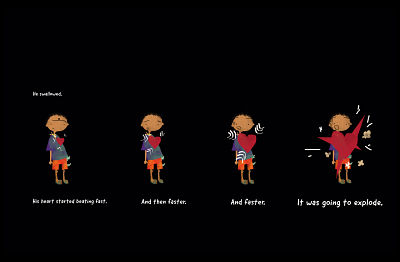 The illustrations by Nefeli Malie are wonderful – bright and childlike, and coupled with the lovely prose by Evi Triantafyllides, they tell the story of Adri in a clear and appealing way, at the same time exposing readers to aspects of the Day of the Dead (Día de los Muertos) festival. And the book is not just a story. There's a dictionary of Spanish and English terms related to the story as well as questions posed as 'Mexican mysteries' about the text that highlight facts about Mexico.  The book itself forms part of the first 'parcel' offered by Worldwide Buddies.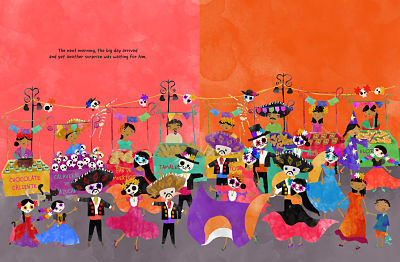 Worldwide Buddies is a series of fictional, educational stories with characters from different countries around the globe that allow children to imagine a more beautifully complex world. Stories are designed to promote cultural awareness and introduce little ones to the diverse realities and wonders of the world, early on.

"A Marvelous Mexican Misunderstanding" is the first story of the series and will become available for purchase through their website in a couple of weeks: www.worldwidebuddies.com

Alongside the story, readers can also purchase a story box with additional games, toys and activities that accompany the book. You can find out more on their website or via Facebook or Instagram.
As Worldwide Buddies will start accepting orders for the books ($18) and story box ($35) soon. As they are based in the USA, I asked Evi if the book and story box will be available in the UK, and she confirmed that yes, delivery will be possible to the UK too.
As a teacher of Spanish to young children, I love this book as it is amusing and gently makes fun of Adri's misunderstanding to reveal the wonder of the Day of the Dead festival, explaining how it is a happy festival and a time to remember those who have passed away. I'll certainly be sharing it with my learners next year in the run up to November 1st. It also leads into a pertinent discussion about our fears often that fit well with the  SMSC (Social, Moral, Spiritual and Cultural) agenda here. I look forward to reading more Worldwide Buddies books!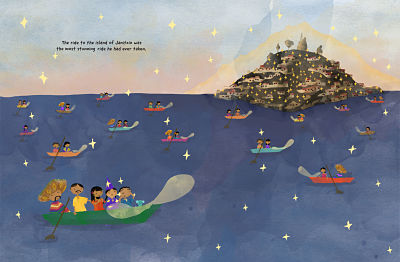 Details about #MCBD2018:
Multicultural Children's Book Day 2017 (1/27/18) is in its 5th year and was founded by Valarie Budayr from Jump Into A Book and Mia Wenjen from PragmaticMom. Our mission is to raise awareness of the ongoing need to include kids' books that celebrate diversity in home and school bookshelves while also working diligently to get more of these types of books into the hands of young readers, parents and educators.
We'd like to also give a shout-out to MCBD's impressive CoHost Team who not only hosts the book review link-up on celebration day, but who also works tirelessly to spread the word of this event. View our CoHosts: http://multiculturalchildrensbookday.com/about/co-hosts/
TWITTER PARTY Sponsored by Scholastic Book Clubs: MCBD's super-popular (and crazy-fun) annual Twitter Party will be held 1/27/18 at 9:00pm EST.