"Watch this beautifully animated, and heart felt, short film about a little girl who visits the land of the dead, where she learns the true meaning of the Mexican holiday, Dia de los Muertos (sic)." Student Academy Award Gold Medal winner, 2013!!
You can download the colour by numbers 'calavera'  below (completed version on right) from this post on Spanish Playground  There are also links to a number of online 'rompecabezas' related to the festival – you have to move the pieces to make the complete picture.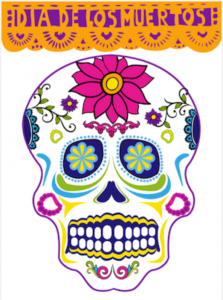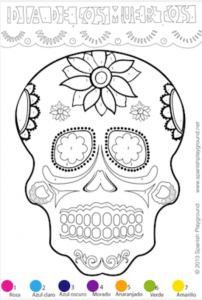 Other helpful links
How to build a Día de Muertos altar (photos)
National Geographic talks about the festival in images and simple captions
Here are some images to colour
And this website has lots of information and activities for Día de Muertos including how to make sugar skulls (calaveras)
One of the Links into Languages Linked UP projects took Día de Muertos as its theme – the resources are brilliant but you'd need to start several weeks prior to the event to cover it all!
And finally, AZCentral has this PDF of resources that is freely downloadable.