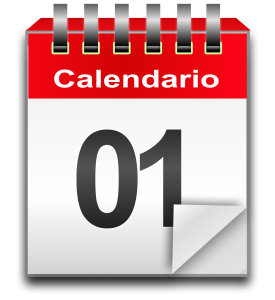 Having a number of pupils who don't celebrate Christmas, and to alleviate 'Christmas saturation' I tried to come up with a different activity for the last week of term for my pupils.
Most of WPS have spent the last half term looking at days months and numbers so a calendar sprang to mind. And I recalled making a 3D one years ago…
I couldn't find the template so I searched online for a dodecahedron net, and then for 2015 calendar tabs in Spanish, and then made my own.
'Ingredients'
dodecahedron net copied onto card – dodecahedron
copy of Spanish calendar tabs for 2015 – (you'll need to reduce it to half size I discovered unless you print it straight from the site in which case it's the correct size!)
scissors
glue
felt tip pens
LOTS of patience!
'Method'
I gave each child a net on thin card and asked them to decorate each pentagon to form a background. Some chose a pattern, some tried to draw a suitable picture for the month, others just coloured.
Then they cut out the net – I'd made all the bits to cut really obvious by using dashed lines but still children cut off the tabs!
They cut each month out and stuck one month per pentagon onto the net.
Then the fun began! You need to fold all the pentagons inwards, and all the tabs too.
Sticking it all together starts off easy as you make a basket shape with the base but gets more and more fiddly as you have less space to grip and hold flaps so that they bond. My advice is to make sure the you do a tab or two at a time and hold them until they are firmly stuck. The last few joins will be more flimsy as you can't apply pressure but if you try to leave a pentagon with several flaps, you should be able to just tuck them in and hope for the best!
Here's my finished example: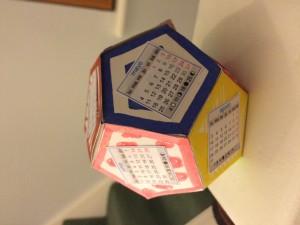 I've since discovered this preprinted dodecahedron calendar calendario-deca-2015 on the same site – it wasn't there last week! However, I prefer my version as this has capital letters for the months and days and having battled with children all term to stop 'correcting' the date that is written on the board when they copy it into their books, I'm not going down that road!
And there is also a Calendario rombico calendario-rombico-2015 which looks interesting! You need to follow the instructions here to make it!
Whilst the bottom strip on the calendar tabs is not needed, it fits beautifully with the unit we're studying as we're in the middle of discussing festivals and dates, and the calendarios will be  great for practising saying the date in Spanish after Christmas break. However, having spent my lunch hour 'rescuing'  a large pile of them, I don't want to see another one for a while!