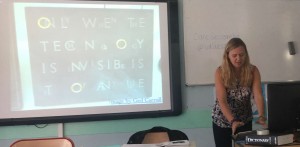 My session at the wonderful Practical Pedagogies conference centred around the use of technology to enhance Primary Language Learning.
Key points I made included:
technology is not  just for the pupils but also for the teacher;
it is just one tool we have to use;
it is not always the best tool for the job.
I went on to suggest online tools as well as apps that might be useful in a range of contexts and situations.
My presentation is below and there is wiki with links to tutorials, examples and ideas that accompanies it. Feel free to ask questions via the contact form or @lisibo on Twitter.

And thanks to Marisa for sharing her notes (and photographs!)
here
.