My FB wall reminded me this morning (edit – was yesterday now!) to wish Happy birthday to Bev Evans and I sighed. She passed away a few weeks ago so it's another sad day for her family and friends. Her husband Paul tweeted
@bevevans22 birthday girl tomorrow, why not celebrate and plan a lesson using one of her great resources.

— Paul Evans (@Tuck5131) April 14, 2014
and I thought – why not?
Bev set up up Communication4all  in 2006 to share all the resources she had made to enable inclusion within her own school, and continued to share there, and then latterly on TES Resources where she was @tes_SEN.  Her resources have been downloaded 4.5 million times in 248 countries. Amazing lady – and very much missed.
One of her legacies is her website. There is an MFL section containing numbers,  days, months and seasons in French, Spanish, German and Polish as well as multilingual greetings and a few French resources on animals transport and colour. Very attractive and clear – well worth downloading.
However, there is a wealth of other stuff on the site that could equally be used in primary languages.
For example, the Spring time dominoes feature no language and could be used to practice numbers and spring vocabulary: for example in Spanish
un pollito     un pato       un nido      un huevo    un cordero    un conejo
uno dos tres cuatro cinco seis
For Christmas, why not try this activity that uses 2D shapes to make Rudolph, Father Christmas an angel and a Christmas tree; not only is it themed for a season/festival but it also allows you to discuss colour, size and shape.
Take Rudolph.
¿Cuántos rectángulos hay? ¿y círculos? ¿De que color son los triángulos? El círculo marrón ¿es grande o pequeño? and so on!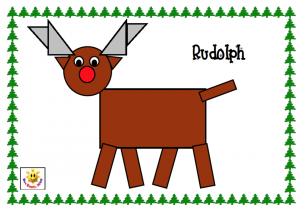 Getting away from festivals, Bev made lots of colourful board games, often with a literacy theme, that I;ve used before in the language classroom.
Her bright bold snakes and ladders board can be used for any topic; simply have a list of questions or instructions for each number to which learners refer, changing the list according to the theme. Or you could make question cards (perhaps the same ones you use for QuizQuizTrade) and learners pick one up when they land on an odd square. (The link is to the numbered version – picture is linked to unnumbered version)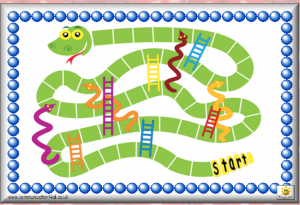 Where in the world is Barnaby Bear? is a good game to link geography to knowledge of the world. It's in English but you could discuss the languages spoken in the countries visited, the flag and talk about colours (Clare Seccombe has some great resources for this on LightBulbLanguages) and perhaps some discussion of transport.
 I love the Catching flies game for counting and as an introduction to who eats what for young learners, and also Build your own Gruffalo which could easily be adapted to another language and used when talking about facial features – great for our unit of mythical beasts! Likewise, Elmer's Colour Collecting game is great for colours and Build a bigger caterpillar for numbers!
The Hungry Caterpillar is a story that I use in Spanish and there's a good healthy eating game linked to the story; great opportunity to use food vocabulary as well as 'es sano' / 'no es sano', and ñam ñam / beurk! or ¡Qué rico!/¡Qué asco!
Likewise, the Handa's Surprise resource is a data handling one, reinforcing maths skills and asking children to make tactical decisions too! And there are more games/activities too based on other stories such as Dear Zoo, Jack and the Beanstalk, and Hairy McClary.
Then there are all the editable labels – great for labelling table groups, making displays, creating flashcards on topics, creating clues for treasure hunts and generally making colourful resources. I particularly like the handprints and the wild animals!
One final thing I love – the colour sums in the Art section, and also the colour dominoes; love a good paint splat!
And that is only the things directly from the HOME page. I haven't begun on the resources accessed via the sidebar. I'll save that for another day, although feel free to explore before then. In fact, I'd encourage you to do so, and share with your primary colleagues as there is such a wealth of high quality resources' hidden' here.
One last thing – I am particularly nostalgic about the international rugby balls, originally created for 2007 Rugby World Cup and updated in 2011; that's possibly one of the first times I 'spoke' to Bev and, having made them in English and Welsh, she made them in French and Spanish because we asked her. That's the kind of lady she was!