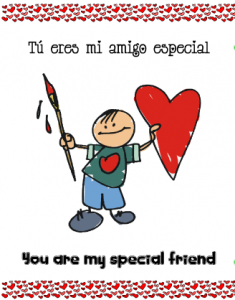 A day early I know but I figured it would be more useful to tell you about it BEFORE the day so that you might be able to use it ON the day…
Via Twitter, I discovered this lovely activity from OnlineFreeSpanish.com for making Valentine's Day cards.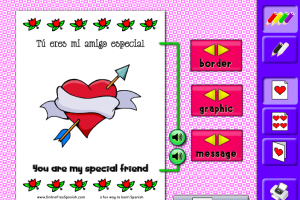 I particularly like this resource as it offers lots of choice! You can choose a border, an image and a bilingual message to suit your personality and the recipient. Not all the messages are 'slushy, lovey-dovey' ones so it's quite safe to use with a group of children who might not be into romance. And you can also choose to have the image in colour or leave it black adn white to be coloured in. Additionally, you can choose to print the card as a poster (one loveheart icon), as a sheet of four (four lovehearts) or as a sheet that can be folded to form a proper card (heart on card icon) The only downside is that the inside of the card is only in English 🙁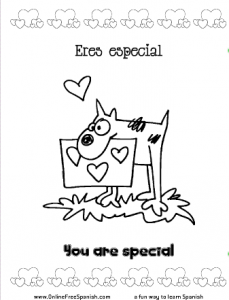 More Spanish Valentine's fun here  on Youtube from Babelzone/LCF with a little video and a new take on He loves me, he loves me not!
For more Valentine's ideas (mostly in French) check out Jo Rhys-Jones' post on Talkabout Primary MFL.
And why not get adventurous and follow the lead of @wizenedcrone aka Fiona Joyce who had her Y9 learners writing a simple collaborative poem. Following a simple structure
Te quiero como ………… quiere a …………
learners can use dictionaries to suggest nouns to fill the gaps. In the example from Fiona, my favourite line is
'Te quiero como las abuelas quieren a los crucigramas'
My example –
Te quiero como el mono quiere al plátano.

Te quiero como el pato quiere al agua.

Te quiero como los profes quieren a las vacaciones.

Te quiero como la fresa quiere a la nata.
Or you could try it with this pattern
…………. son rojos

…………. es azul

Quiero a ……………

Como quiero a tí
substituting the dots with a plural noun, a singular noun and another noun that you like a lot.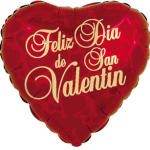 My poem might be
Las cerezas son rojas

El cielo es azul

Quiero al chocolate 

Como quiero a ti