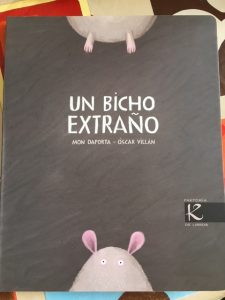 One of the books I bought in Bilbao was Un bicho extraño by Mon Daporta, a book which first came to my attention at Language World last year during the Show and Tell when Jesús from the Consejería shared it.
It's a charming book that fits in well with the work we're currently doing in Y4 about describing our faces and body parts. I love the video below of the story being told using a picture onto which body parts are stuck/removed as the story develops. And the wonderful thing is, the Consejería have produced a series of activities to use the book as well, including activities for pre and post reading. Some lovely ideas, and the instructions are bilingual too so no need to worry if you're not fluent in Spanish!
I've also found this Slideshare that discusses ideas for using the story, and culminates with making your own version of the book using felt, buttons, ribbons etc.