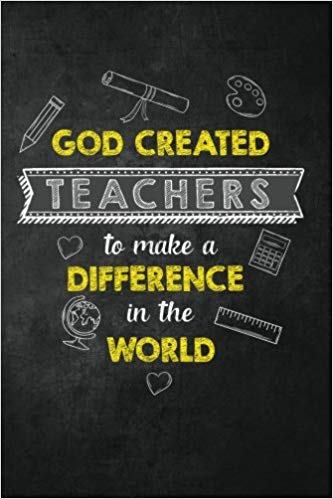 I was talking to someone this week that I've known since my late teens about ambitions that we had then and whether they've been realised. Whilst they had a long list of aspirations including to write a book, travel the world and win awards for their writing (all achieved), I really only had two ambitions that didn't seem as exciting – to be a mum, and to be a teacher. Ambitions achieved? Well, yes. I am mum to two boys and I like to think they're turning out OK, and I am a teacher.
But I didn't want to be just any teacher. I wanted to be a teacher like Mrs Head, Mrs Corden and Señora Sánchez- Richardson; unforgettable teachers who are etched in my mind, who nurtured and encouraged my fascination with learning and with finding out about the world beyond our town and country, and who inspired me to be a teacher too. I literally followed in the footsteps of the latter as I took over from her as Head of Spanish when she retired, but have I ever managed to make such an impact on a child's life as she made on mine?
I love my job and have done since I moved to primary but it hasn't always been like that. At one point, realising my ambition to teach, and to teach Spanish, was destroying my life and that of my young children, and that's when I left secondary teaching. [NB I am not saying that secondary is bad and primary blissful but I always wanted to be a middle school teacher who taught Spanish and was 'forced' into secondary teaching as the closest way forward.] I look back on those days and wonder if I managed to make a difference to any of my pupils as I was a walking stress factory. I know I did though as I've since met a pupil who remembered how she'd made my life a living nightmare when I first started as Head of Spanish and told me that she admired my determination to get her to succeed when she was throwing all my efforts back in my face. One of my pupils from those days contacted me (via a teaching friend) when he finished his GCSEs to tell me that he'd done well and to thank me for teaching him French. I'd only done it for a year in Y8, and only two lessons a week although I did love teaching his class. We're still in contact, and when he wanted to start learning Spanish, he asked for my help.
What about since I moved to primary? I've loved it but that doesn't equate to inspiring anyone. Perhaps I should just be glad that I like going to work, that I have fun and that I'm doing what I love to do. Does it matter if I'm making a specific difference to anyone's life? Well it does to me. My overarching aim is to encourage children to explore languages, to enjoy learning them and to want to carry on when they leave. The vast majority move to secondary schools where they will learn French or German rather than Spanish (at least at first) so it's important to me that they leave with the will to 'start again' but also the understanding – and belief – that those years of Spanish were not wasted.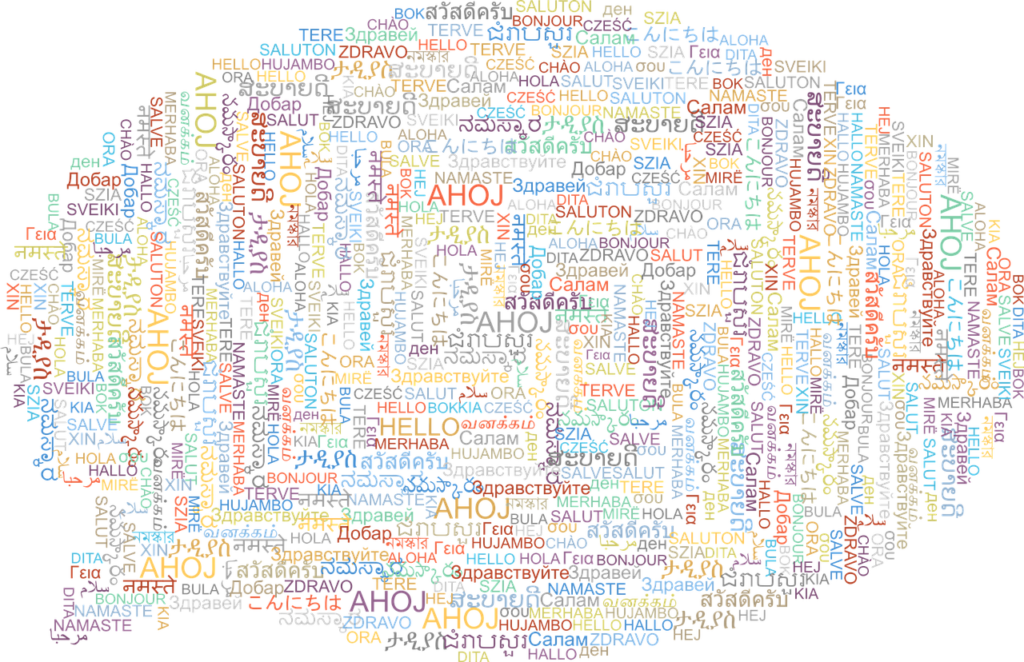 So do I make a difference? Past pupils quite often say ¡hola! when they see me so I can't have made a hugely negative impression on most of them! I love going to 'prize giving' evenings for my boys not just to celebrate their achievements but to 'check up' on old pupils, and I'm especially proud when they have won prizes for languages (happens quite often!) Former pupils send me messages with younger siblings or even turn up at school to tell me how they've doing with languages or have done at GCSE, and some proudly tell me that they're continuing with language learning. A former pupil asking to do work experience at one school this year specified that she was particularly interested in languages (of course I jumped at the opportunity!) Another former pupil volunteered as a sixth former, first through his school scheme in Y12 and then in his free time, delivering Spanish in KS1, and is now a student teacher with a language specialism. Don't get me wrong, I'm not claiming that it's all my influence that makes this happen; I know that these young people have had excellent language teachers at secondary level too, but I'd like to think that I started them on their way…
And it's not just the 'high fliers' that I'd like to think have been influenced. A Y6 at my other school last year bought me a huge bunch of flowers and wrote me a note about how much he'd enjoyed Spanish and how he'd miss me – a child who is not a natural linguist but who listened and tried his best, always with a smile. I hope he remembers his experiences if languages are quite the same for him in the future.
I started by recalling a conversation I had with a friend. That was one of two reasons I started this post, the other catalyst being a message on LinkedIn from another former pupil who has now completed his engineering degree and is completing a Masters whilst spending a year in industry. During his internship he's decided to take up Spanish again and wanted to ask my advice as Duolingo is great but he felt he lacked listening and speaking practice. He'd written the whole message in Spanish (and I don't think he'd completely GoogleTranslated it either!) which touched me, but what he wrote in the second half of the message made me cry: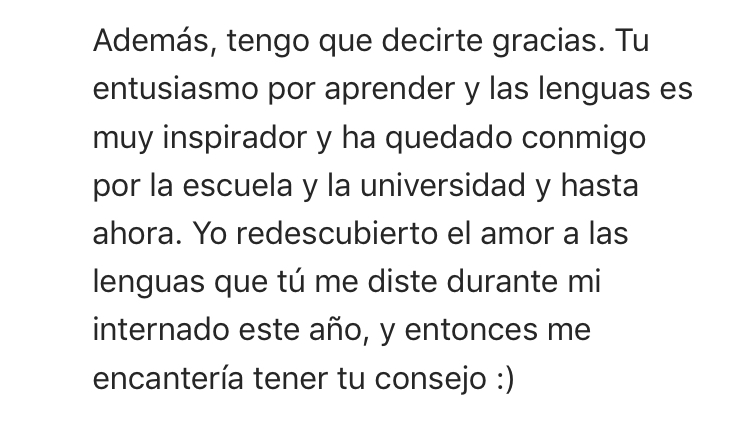 So I guess I've made a difference to those young people, however big or small. And they're the ones I know about. As I said earlier, Señora Sánchez-Richardson knew I became a Spanish teacher but she doesn't know about my career since 2000. Mrs Corden died whilst I was at secondary school but I went to her funeral and made sure that her children knew the influence she had on me. I last saw Mrs Head when I was 10 so she probably doesn't know how much they influenced me, and she certainly knows nothing of my teaching career as I was Lisa Efford then.
The point of this post is not to say 'look at me, I'm brilliant' but to serve as a reminder of two things. Firstly, ambitions are great but who knows as teenager where life might lead you. I've done far more than I could ever imagine then including keynoting conferences, writing websites, radio series, magazine articles and textbook materials, running a marathon and completing triathlons and living in Switzerland. And secondly, we might not know the influence we have at the time, and we may never know, but it happens. Teaching can be a 'thankless' task, sometimes quite literally. I don't get piles of presents at the end of the year as a class teacher might do, but it makes any thanks I do receive all the more special. And actually, as much as I love (dark) chocolate and smelly candles, I'd swap them all for a message like the one above.