One of the sessions I attended at Language World was given by Sue Cave. Entitled Language Detectives, it shared a project that Sue and a colleague had devised, originally for a day long workshop for more able primary linguists, based around children using their detective skills to decode unknown languages. Sue described it as 'a morning of training in preparation for an afternoon trying to thwart a multilingual gang of criminals.'
The session referred to and worked on the Language Learning Skills (LLS) and Knowledge about Language (KAL) strands of the KS2 Framework (NB is still a very useful document!) We discovered that gesture is important but that it works best in conjunction with words, eye contact and prior knowledge, and I discovered that I'm not as good as charades as I thought I was. (Sorry Vicky!) We also discovered that knowledge of word classes as well as how to use a bilingual dictionary are skills that a good detective needs, and that listening to the sounds and intonation of a language is also helpful.
Having undergone our (very swift!) training, we used our skills to thwart the gang who spoke Spanish, Welsh, German and Italian, stopping them before they stole a valuable item!
Sue has very generously shared not her presentation but all the resources on her excellent website on the Sharing Good Practice section (scroll to the bottom)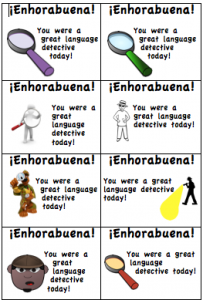 One idea (of the many!) that I particularly liked was the Language Detective certificates that Sue gives out when a child makes a discovery about language and shares it with the class. Sue has generously shared her certificates in the Teaching and Learning section of the Sharing Good Practice page. As I teach Spanish not French, I've made some of my own that you can download from the link below.
Spanish Language Detective certificates 
Thanks for an inspiring session Sue, I know I'm not the only one who went away with my mind buzzing!
And thanks to Yvonne too for my 'lucky dip' magnifying glasses that fit the theme perfectly and will be put to sue immediately!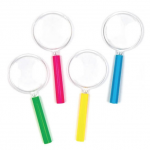 PS here are my notes too!