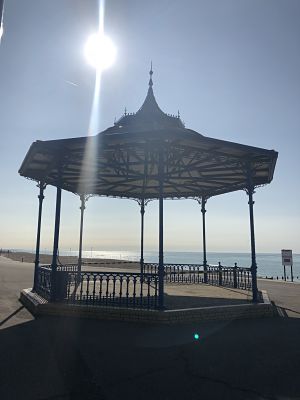 Wednesday morning saw me gazing at the sea, then moving swiftly past Butlins to speak at University of Chichester MFL Conference. I had a lovely day attending sessions in the morning and sharing some ideas about using technology and stories in the languages classroom.
Below are my sketchnotes of the sessions I attended, starting with Elaine Minett's upbeat introduction to the conference, talking about challenges being seen as opportunities, followed by an idea packed session about using poetry by Concha Julian of the Consejería de Educación and finishing with Lynne Brackley's session on using drama based activities in languages. I enjoyed using my dramatic skills in both of the latter sessions!
If you get the opportunity next year, I can thoroughly recommend attending as the conference was varied with sessions for primary, secondary as well as cross phase sessions, and they were delivered by a variety of people including PGCE students, teachers and representatives of organisations like the British Council, the Consejería de Educación and Language Angels. I enjoyed seeing Catherine on the Little Linguist stand once more (and buying a new book!) as well as visiting other stands including Institut Français and European Schoolbooks.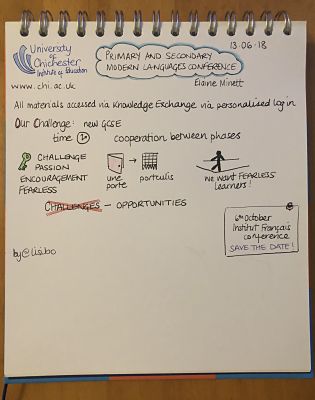 A post about my sessions will follow later!