When bsmall contacted me to say that they were updating their 50 Phrases series and would I like a sneak peek, of course I said yes!
bsmall are a "small but mighty" (love that description!) award-winning independent children's publishing company that creates and publishes children's books for sale in the UK and around the world. "We're on a mission to empower all readers with critical literacy skills, and our books are creative, educational and encourage children to think for themselves." I've written about some of their books before. You can find out about their Hello Languages series here, one of their UKS2 parallel text books Los Mellizos del Tiempo here and their I can read series of books here (update – there are a couple of Spanish ones and more French available now £1.99 each from Apple Books)
The 50 Phrases series are currently available in French, Spanish and English, and aim to give children 'a head start' with a new language. Over 32 pages, they introduce some common phrases and useful vocabulary for beginner learners including how to introduce yourself, talk about your family and express opinions as well as asking questions about where and what things are, inviting others to play and requesting things. Each double page spread has between 2 and 5 key phrases that are highlighted, adding up to 50 over the whole book, as well as boxes of vocabulary that can be used with those phrases. There is also the suggestion of a game or activity to rehearse those phrases, and also a little bit of grammar is explained throughout. You can see an example below.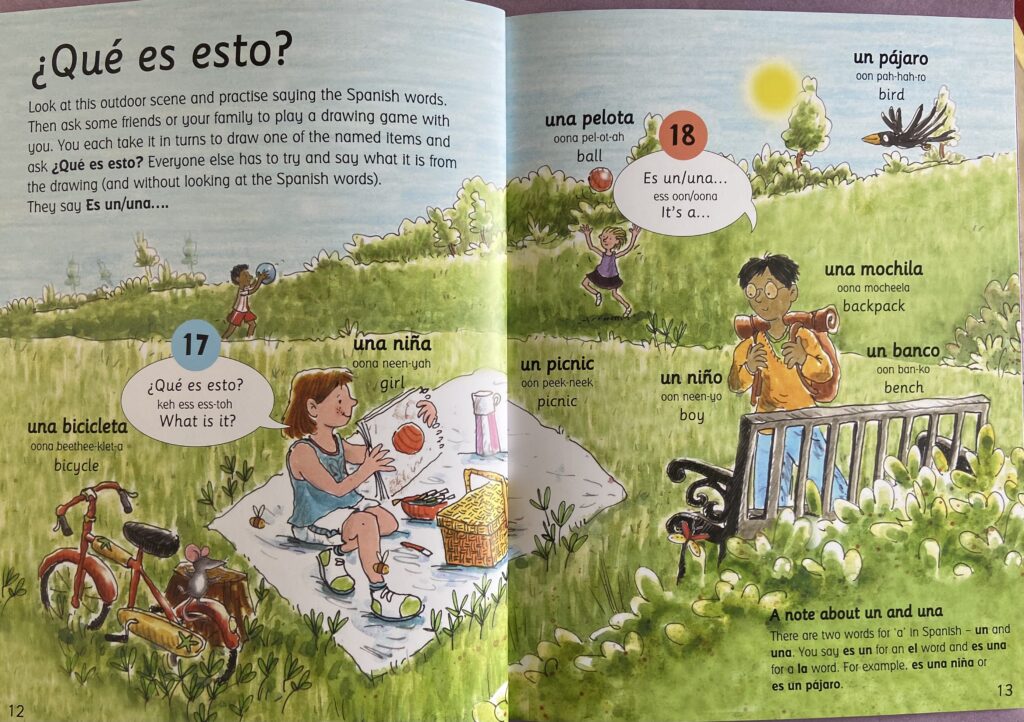 Each phrase is written in Spanish and English, and is also written 'phonetically.' I'm not a great fan of this 'how to pronounce it' guide as it can lead to very odd pronunciation, but I understand that some people find it helpful, particularly as this is intended to be used at home/independently. And that's where the update comes in about which I am very pleased.
The book now comes with a QR code that gives the reader access to audio files of the 50 Spanish Phrases (and the same for English and French if you purchase those books.) that give a clear native speaker model of the pronunciation. You can see how it works with the sample below.
By giving the pronunciation of the key phrases, learners now have access to what they actually sound like which will facilitate more educated understanding of the pronunciation guide and more accurate Spanish pronunciation. So this is a great resource that can be used at home without need for a Spanish speaker to be present!
As I said, I was given a sneak peek as the updated versions are not released until May 3rd but you can preorder the Spanish French and English books via the bsmall website.
While you're on the site, check out some of the other books they publish. My eye was caught by the Hide and Speak books with flaps to lift and the Mix and Match flashcards for practising questions and answers. Or download the Language Learning brochure to browse at your leisure! And make sure you check out the Activity Hub where you can download a copy of the Rights of the Language Learner as well as a beach picture labelled in French and Spanish – perfect for Y2s summer topic.