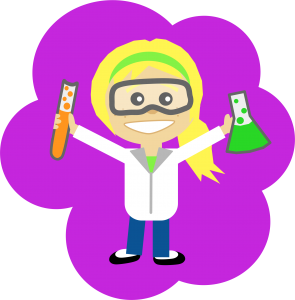 Following on from my post on Arts themed non-fiction books, here are some books I have collected that have a scientific theme.
1001 bichitos para buscar con pegatinas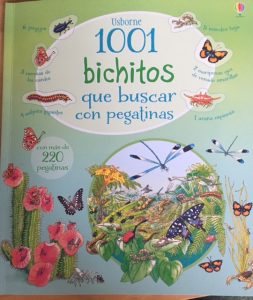 I bought this book in Barcelona last year for our Y1s who study mini beasts. I bought it not as a sticker book – imagine one book of stickers between 61 children! – but as a reference book for them to look for and name mini beasts, and for them to be able to label their science bilingually. I also like the variety of habitats shown including the desert, a cave and a rainforest, places that Y1 may well have not visited. As you can see via the link below, there are other books in the series including one about animals and another about pirates (another Y1 theme!)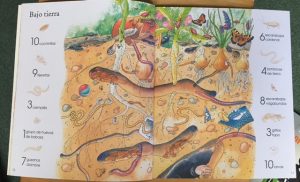 ISBN – 9781474909303
---
Larousse – Las estaciones
I can't recall when I bought this book, or from where, but it is one of my favourites for its simplicity and range of information.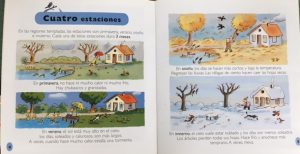 The above pages are brilliant for comprehension with learners given a grid with the four seasons and asked to fill it with the weather phrases from the text. It also has some phrases that more able learners like to 'magpie' such as no hace ni mucho calor ni mucho frío, estalla una tormenta,  and ráfagas de viento (which I admit was a new one for me too!) as well as using más and menos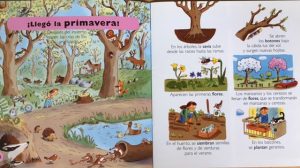 This double page spread covers what happens in spring and could be used for finding the word for… sap, roots, branches, buds, leaves, to sew seeds; and also for looking at the relationship between fruits – manzanas y cerezas (with which learners are familiar) and the trees on which they grow – manzanos y cerezos. And aren't the illustrations wonderful?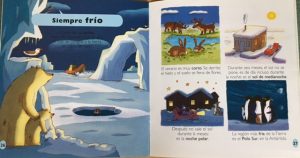 One last double page which would be useful to Y2 who look at life in Antarctica. There's a similar page for life near the equator where it's always hot.
It's listed on Amazon.co.uk at the ridiculous price of £173 but if you go to Amazon.com, the same series are more reasonably priced at $3.95
ISBN – 978-970-22-1445-8
---
¿Por qué  el Planeta Tierra es tan especial?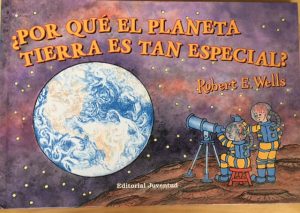 Planets is a Y5 theme that I've used many times as a cross curricular link with Spanish (see this post for my solar system plate books!), and this book was purchased several years ago, along with others, in Barcelona on a Comenius Regio trip. It was chosen by a non Spanish speaking colleague who felt that she could understand it, could use it and that her class would enjoy looking at it. And so it proved. This book, and another which is at school and that I'll share another time, sit in the class library for the duration of the topic and are referred to regularly. Learners don't understand every word but they like the graphics and enjoy the thrill of 'reading' in Spanish.
Again, the information is easy to decode as the learners are familiar with information about the planets such as their order, and can work out key vocabulary such as atmósfera, oxígeno, fricción, meteoritos, rayos, gira, respirar and so on. Great practice for huge numbers too!
The book isn't just about the planets though; it's about why Earth is so brilliant, and it concludes with several pages about climate change and how we can prevent our planet from becoming less conducive to life.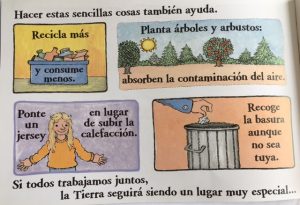 Buy from Little Linguist
ISBN978-84-261-3805-7
---
Pregunta al Dr Edi Lupa sobre el Clima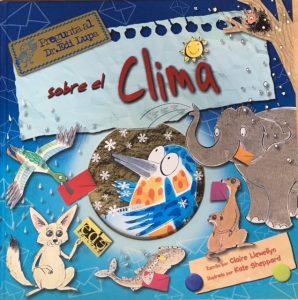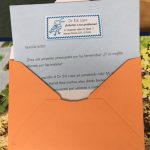 I bought this book from eBay and it's one of my favourites. The texts are more challenging, and learners need more support to access them but the whole concept is worth the effort. It forms part of a series of books in which Dr Edi Lupa answers the letters of concerned animals on a  number of topics, in this case, the climate. The letter from the animal appears on the left and then the response of Dr Edi Lupa on the facing page. These are often followed by double page spreads that expand on and further clarify explanations.
I particularly like the Glosario at the end which explains some key words simply in Spanish. You could make a great matching up game with this that could be kept as an extension activity for Science lessons. In fact, you could make an activity out of the water cycle explanation above by removing the speech bubble words and asking learners to put them back in the right places so that the process works.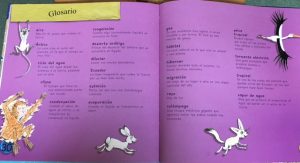 To buy from Amazon
ISBN – 978-84-96609-45-7
---
So that's my 'scientific' themed books – or the ones I have at home at least! Do you have any favourites that you'd like to share? Leave a comment below if you do!