Have you discovered the Noticias Locas site? As the name suggests, it's a collection of mad news items that makes a change from politics, crime and sport. Not just good news stories like Martyn Lewis' 'And finally…' but some absolutely bonkers ideas. Whilst some are of a slightly risqué nature (I'm amused by the kama sutra illustrated by sock monkeys but not sure I'd be thanked for bringing it to the attention of a class!) I think that many could be used in the KS3+ classroom for reading – they're certainly  "short texts" – and would certainly raise a smile or an eyebrow!
Some examples –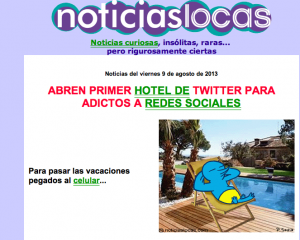 Si son de esas personas que no pueden parar de tuitear, aún estando de vacaciones, este nuevo hotel, ambientado alrededor de Twitter, en Magaluf, España, es perfecto para ustedes.

La cadena española de hoteles Meliá, tuvo la brillante idea de abrir un hotel en donde, quienes allí se hospedan, interactúen entre ellos y con el personal del establecimiento a través de Twitter.

Gonzalo Echeverría, gerente general del hotel, explica que ¨es un nuevo paso que da nuestro hotel para satisfacer las expectativas de la gente¨, considerando que las nuevas tecnologías ya son parte de la vida cotidiana de muchísimas personas.

Dentro de la comunidad virtual creada dentro del hotel, también se ofrecen juegos y distintos modos de entretenimiento, siempre dentro de las redes sociales.

Así que si quieren conocer mucha gente nueva, pero a través de una pantalla, este hotel es para ustedes.

*********************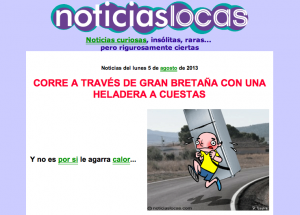 Tony ¨Heladera¨ Phoenix-Morrison recorrerá 1.053 millas con una heladera de 42 kilos y medio en la espalda,, desde John O' Groats hasta Land's End, en Gran Bretaña.

Esto quiere decir que este hombre de 49 años, con cuatro hijos y dos nietos, correrá el equivalente a 40 maratones, durante 40 días seguidos, acarreando un peso similar al de 40 ladrillos.

Pueden pensar que está loco, pero ésta no es la primera vez que Tony corre distancias enormes con una heladera atada en la espalda. Ya varios lo conocen por las maratones que corrió juntando dinero para misiones solidarias.

Aunque ya lo ha hecho antes, Tony admite que ésta será probablemente ¨la última maratón que corra con la heladera en este país¨, razón por la cual quiere que sea especial. También aclaró que ¨no está asustado en lo absoluto, pero hay algunas montañas y subidas en el recorrido que serán brutales¨.

Ésta última carrera será en beneficio de la fundación Bobby Robson, así que le deseamos a la ¨Heladera¨Phoenix la mejor de las suertes.
*******************
And one for cat fans…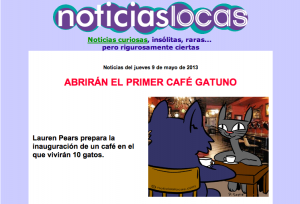 Luego de recaudar más de 100 mil libras en el sitio de financiamiento colectivo Indiegogo, Lauren Pears anunció que el 1 de julio abrirá su esperado 'Cat café". Aunque estos bares felinos son muy comunes en Japón, será el primero en Londres, por lo que Pears aprovechará la ansiedad de los miles de colaboradores y cobrará cinco libras por entrar al café, aunque no especificó si habrá tarifas para acariciar a las mascotas.

La 'loca de los gatos', que tiene 30 años, dijo que "el plan es tener entre 10 y 15 gatos en el lugar, con un máximo de 40 o 50 personas al mismo tiempo y que la gente disfrute de un café en la compañía de un felino", y agregó que tiene "más de 300 aplicaciones de interesados en trabajar en el local". Por otro lado, la emprendedora no realizó comentarios sobre la caja de piedras que necesitará el nuevo café.
I'll leave you to discover other marvellous news stories such as the unusual chocolates produced by one UK company, the alarm clock that shocks you out of bed and the thieves that stole a goat just to give it a pedicure.