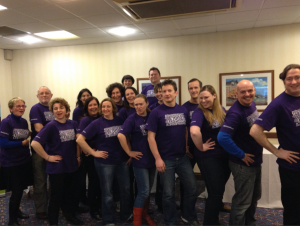 After a week in which my exhaustion was overcome by the enthusiasm of my learners, I'm finally getting around to posting about #ililc4, the cause of said exhaustion.
I love #ililc. Every year, I look forward to it, and it's especially special as I've flown back from Switzerland the last two years to speak there. #ililc1 there was the possibility of us moving to Switzerland; #ililc2 it was the first time I'd been 'home' since I moved to Switzerland and last year at #ililc3 I was about to announce my return to the UK when I was offered a job that threw a spanner in the works – therefore, I've ended up rather emotional each time. And that's why I love this conference so much. It's about far more than the things we learn about language teaching and learning; it's about looking after each other, supporting one another and encouraging people to keep going when they feel like giving up. It's for hugs, pats on the back and hand squeezing; listening and sharing, laughing and crying; for pep talks and words of wisdom. And in the past it's even been for providing 'exiles' with essential supplies of paracetamol and Horlicks (I can never thank you enough for that!)
No big dramas this year (thankfully!) so a much more even keel was held and I enjoyed 'spreading the love' with much squealing and hugging (apologies if I squished you too hard or squawked just a little too loud)
And so to the reason we were there. I admit to taking very few notes as I was too engrossed in listening and tweeting. So here's a Storify of my tweets, and i'll try to summarise other bits!
Joe Dale's keynote was packed as usual with facts and figures, great thoughts, funny pictures and plenty to give pause for thought. I need to watch the re-run and pause it to catch it all I fear!
Then I did my session on A beginner's guide to iPads in the Primary language classroom (see my next blog post!) – seemed to go down well!
After a swift cup of tea, it was off to Clare Seccombe's session on mini books.  WOW! You wouldn't think that there were so many types of mini book. Like Clare, I love books and appreciate her sharing "It's a book!", a story that I bought in German. I tweeted madly, taking pictures of the different types of book, and was left wanting to make books for the rest of my life. Find out more here
A lunchtime presentation on This is Language was interesting. Not necessarily useful in a primary context but fun to have a look at the videos and activities designed for GCSE learners of French Spanish and German. I discovered that my ability to type fast in French is very suspect! 
Next was MFL PE Rap and ICT with Dominic Traynor aka Spanish Bootcamp. Dominic shared how he has a dual role as PE and Spanish teacher, and how he combines the two. I loved playing some of the games he uses like La batalla de cojos that involves hopping whilst trying remove your opponents' 'tails' (bands tucked into their waistbands) and Cabezazos (heading a beanbag); I even used Palmadas (throw a beanbag in the air and count to a specific number in Spanish before you catch it) in assembly this week! He also recommended Memrise which is something I spoke about a couple of years ago at various Teachmeets but had stopped using, It seems to have developed more now and it's possible for teachers to write their own courses. 
Final session of the day – Don't worry be 'appy with Rachel Smith aka @lancslassrach. Subtitled – The Power of One; 1 iPad, 1 classroom; 1 teacher, Rachel talked about her experiences of using one iPad in there language classroom. She recommended several apps that interested me including Pass the parcel and Shake and Boom for games playing, and  StopGo for timed activities. Have a look at her presentation or my tweets for more ideas.
The evening Show and Tell was good as ever with really interesting and practical ideas from many people including Clare, Rachel, Nina Elliot and Sam. Simone shared about her Chinese New Year celebrations at school – including a real live horse (at school, not the SAT!), Helen sang beautifully and advertised ALL (join if you haven't already!) Dom shared a game called Mot de passe when you have to communicate a person, place or thing to someone using single words, Eleanor talked about using physical actions for punctuation and accents, Glennis talked about my beloved Tellagami, Chris talked Teachmeet, Garry talked about Sporcle.com and Simone and John sang (anyone got a video? Mine didn't record!)
Day two started at 8.50am – and I was speaking! Find out more in my blog post on Something old, something new – coming soon!
After coffee, off I popped to see Isabelle Jones talking about Pinterest, a very addictive site. As I tweeted, it's not all about cake pops, shoes and wedding dresses, and as Isabelle shared, it's very useful for collaborating with others in collecting ideas and resources for language teaching and learning. Much oohing and aching followed her presentation as we were given time to play and pin whether online or using the app, following one another and discovering that those in other sessions were pinning too – multitasking they called it 😉
Jo Rhys Jones was my next session (wish i got to see her more – must try harder!) talking about Big ideas for tiny schools, or extreme differentiation for little people. I was glad that someone else gets an idea/motif and runs with it as her use of gnomes rivalled the wedding photos in my presentation. Although most of us aren't teaching mixed age classes, everything that Jo said was good practice for differentiating in a same age class. Her ideas of progression in terms of skills was particularly helpful, e.g. word to word+adjective to short phrase to sentence to extended sentence. And Pigloo and Tchic et Tchac too 🙂
My final session (well, ¾ of the session) was Flipping the classroom with Sadie McLachlan. Loved the videos that have been made by the department to facilitate learning and interesting to see how Flipping is working for them as we continue (slowly) to flip lessons at Welford. A bit trickier for me as I don't set homework and can't make participation compulsory, but ideas can be adapted! Find out more at fliplearningmfl.blogspot.com
Then home, happy and exhausted.
However, that wasn't the end really as I read Clare's keynote on the train and promptly welled up, tears streaming down my face much to the bemusement of those around me. I could identify well with all that Clare said and although I wasn't there, I felt that I was. Heavens only knows what state I'd have been in if I were – perhaps it's better I'd left as I had another weep when I watched it back on the recording. Well said Clare.
I am looking forward to more fun, more sharing and more inspiration next year at #ililc5 – but in the meantime, I'm looking forward to interacting with the #mfltwitterati on Twitter and hopefully in person.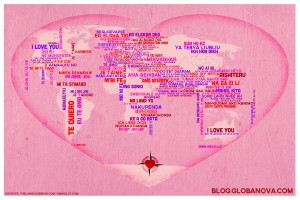 Presentations and handouts
List of blog posts (as of 14th Feb) about ILILC4