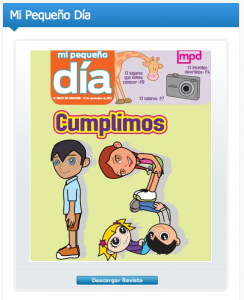 Not sure how I got to this today – I think the cold in Konstanz has wiped my brain! However, I just had to share this lovely magazine in Spanish for small people, downloadable free from elnuevodia.com All you need is Acrobat Reader and the PDF downloads for you to read it.
The graphics are big, bright and bold, and the topics covered fit well with the primary curriculum – healthy eating, family, the world, animals, festivals and so on. Lots of puzzles and activities, and short pieces of writing make it ideal for using with young learners.
I like the current issue which celebrates the 13th birthday of Mi pequeño día, with lots of lists of 13 things including 13 great inventions, 13 places to visit in Puerto Rico (the country of origin of the magazine) and 13 ecological habits.
I also enjoyed the issue Somos más about the world population reaching 7000000000. It includes some nice activities about people of the world and someone talking about their life.
It seems that you can only access the last 10 issues so might be worth visiting periodically and downloading some for future reference…