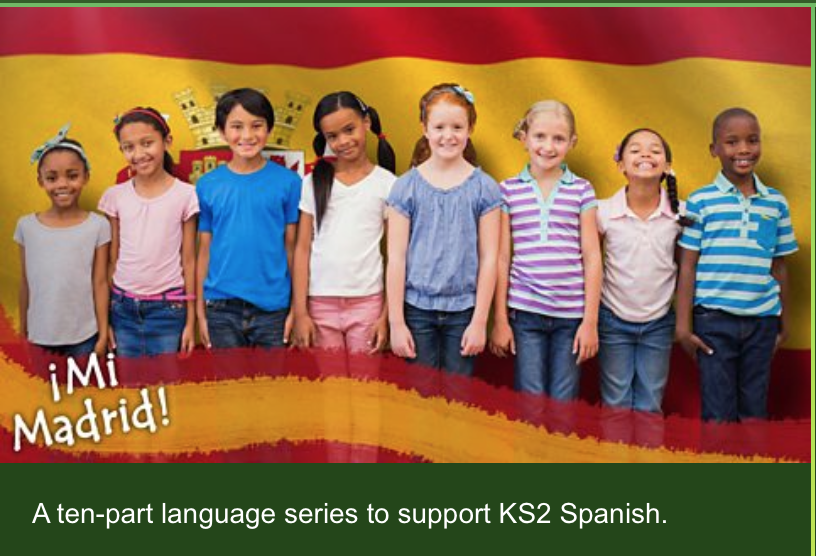 If you've read the Lisibo Ltd page of this site recently, you may have read the following under my activities for 2017:
An exciting project for young learners of Spanish – sworn to secrecy but all will be revealed soon!
Well 'soon' has arrived and I'm pleased to tell you all about it!
Teaching Spanish to Primary pupils??? Listen our for School Radio's new Spanish series, 'Mi Madrid', next term! pic.twitter.com/mt7YnHXnWX

— BBC Teach (@BBC_Teach) December 20, 2017
In July I was asked to join with Afónica  (a sound production company specialising in fiction and documentary in English and Spanish) to write a pitch for an audio programme, aimed at KS2 learners of Spanish (7-11 year olds), to be broadcast by the BBC. In August we discovered that our idea featuring a Spanish boy, Quique and his new friend Charlie who has moved to Madrid from England, had been chosen. And that's where some really hard work began, writing ten 15 minute episodes in which Quique and Charlie explore Madrid, discussing culture and language as well as visiting some iconic places like the Retiro Park, the Rastro market and the Real Madrid football stadium, and meeting some of their neighbours. Those scripts were then recorded in Madrid by some wonderful actors, some songs were added (wish I could claim that I'd written them as they are brilliant but I'm not that talented!)and Nicolas of Afónica worked his magic, putting it all together.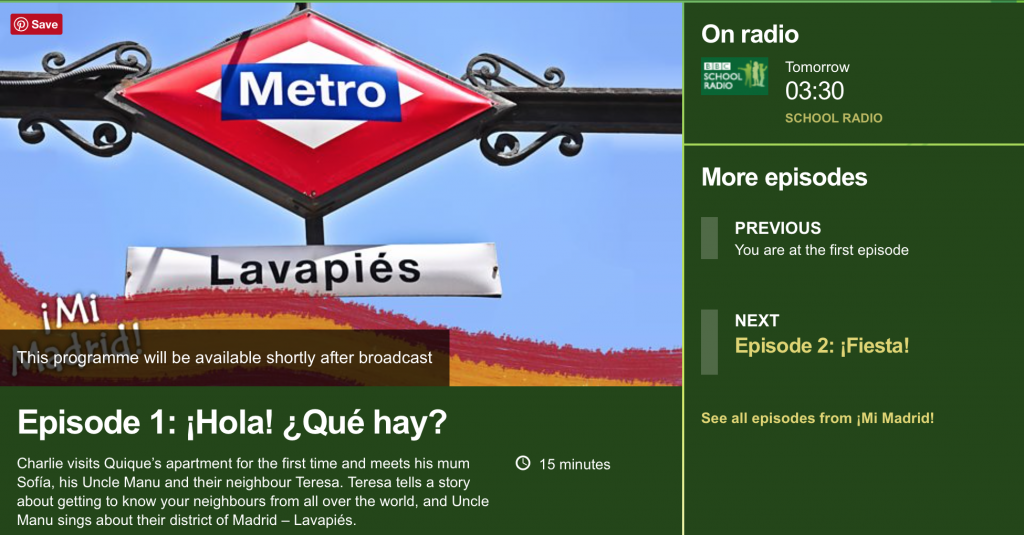 And at 330am (UK time) tonight, episode 1 will be broadcast on Schools Radio. I am so excited; I may even be awake at 330am I'm that excited. However, you don't need to get up in the middle of the night as each episode will be uploaded to the website and available as soon as it has been broadcast. What's more, you can listen to the separate 'chunks' already by going to the Mi Madrid Schools Radio website and accessing the Clips section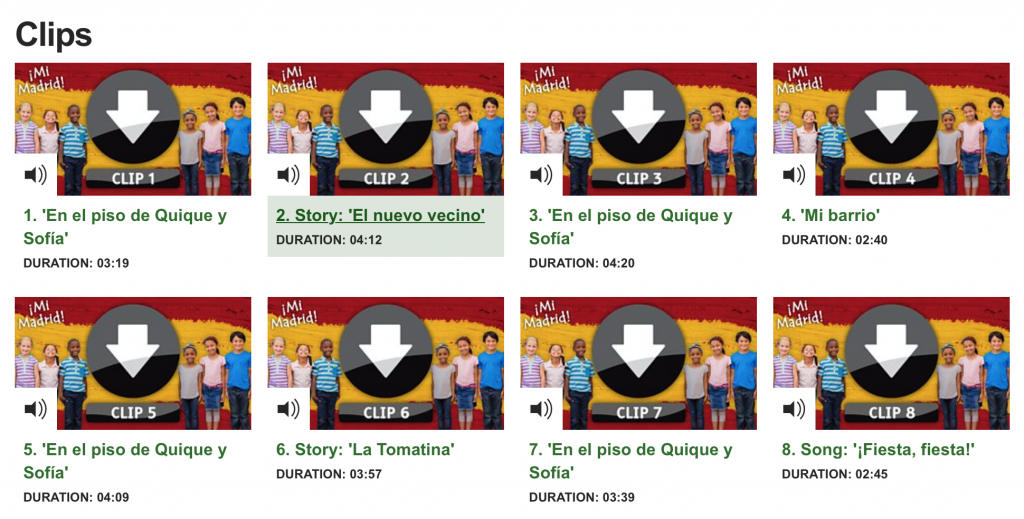 The idea is that the broadcasts can be listened to as an entire episode but also in chunks and that they are used to support the teaching of Spanish at KS2, particularly to students who have already learned some Spanish and are now 9-11 years old. The programmes are predominantly in Spanish with some English used to clarify and explain. Charlie asks questions that the students may well be wanting to ask – about Spanish life as well as the Spanish language – and Quique and especially his mum, Sofía, answer them. I tried to include as many quirky facts and interesting words as I could get away with because that was what grabbed my attention as a young learner, and I hope that this comes through as you listen. Here's the episode schedule so you can see what's coming up.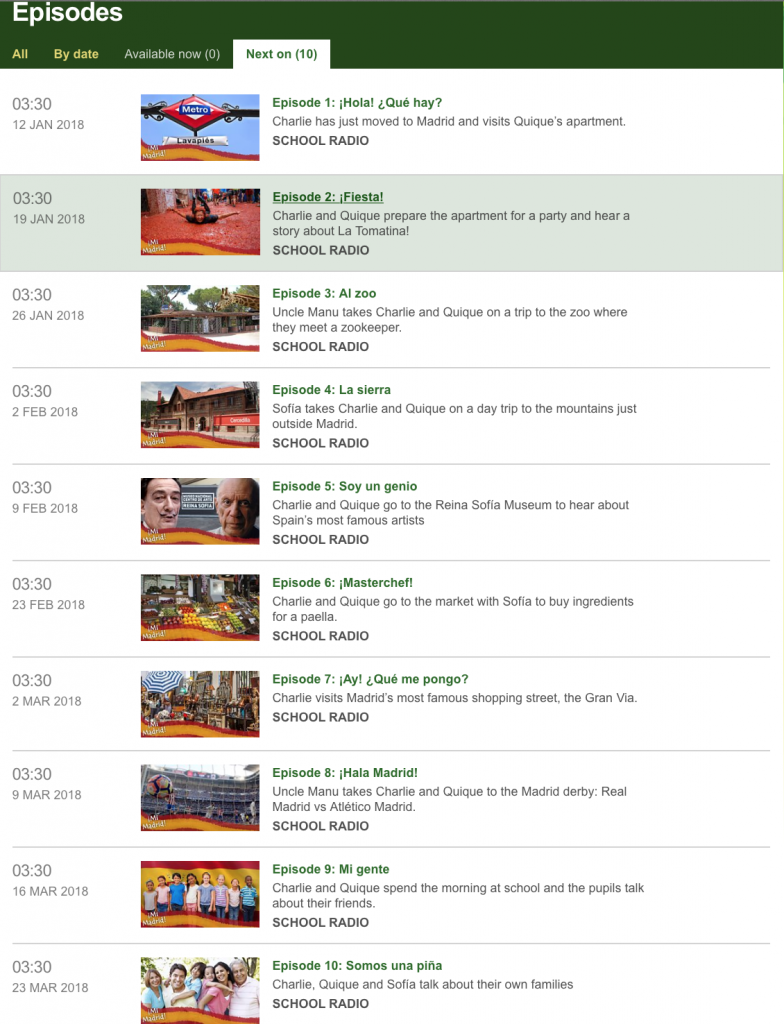 I am really proud of this project and hope that lots of teachers and learners enjoy it. I'm also really pleased that Clare Seccombe of Light Bulb Language fame, has written the Teacher's Notes to accompany the series as I know they will be amazing. They will be available very soon I hope, and will give ideas on how to use the audio as well as notes on what happens in each episode, vocabulary, and some visuals that will support the content. Please let me know if you listen, if you enjoyed it and how you used it. My favourite episode to write was Episode 8 ¡Hala Madrid! although Episode 6 Masterchef  was a close second. I'll tell you which I think has turned out best when I've heard them all but please leave a comment about your favourites too!   SaveSave
SaveSave
SaveSave