Since I last wrote a post, I've presented three times about international links!
In November I was pleased to speak, along with Vicky Gough of the British Council, to the ALL Portsmouth Primary Hub about Making international links to motivate our young linguists and celebrate their achievements. My contribution was summarised as:
Lisa took us on a whistle-stop tour of the many different projects she has been involved in over the past twelve years or so. What shone through was the positive impact these experiences have had on all involved – pupils, teaching and school staff and parents. Senior management have increasingly recognised the value of these projects and prioritised them within school planning. Comments from pupils and colleagues, and more formal statements from school leaders, provide testimony to their success.
In December I was invited to deliver a keynote at TMMFLIcons entitled International links and developing young linguists. I knew that 15 minutes was tight to say all that I wanted so I summarised the benefits/outcomes on the 3rd slide!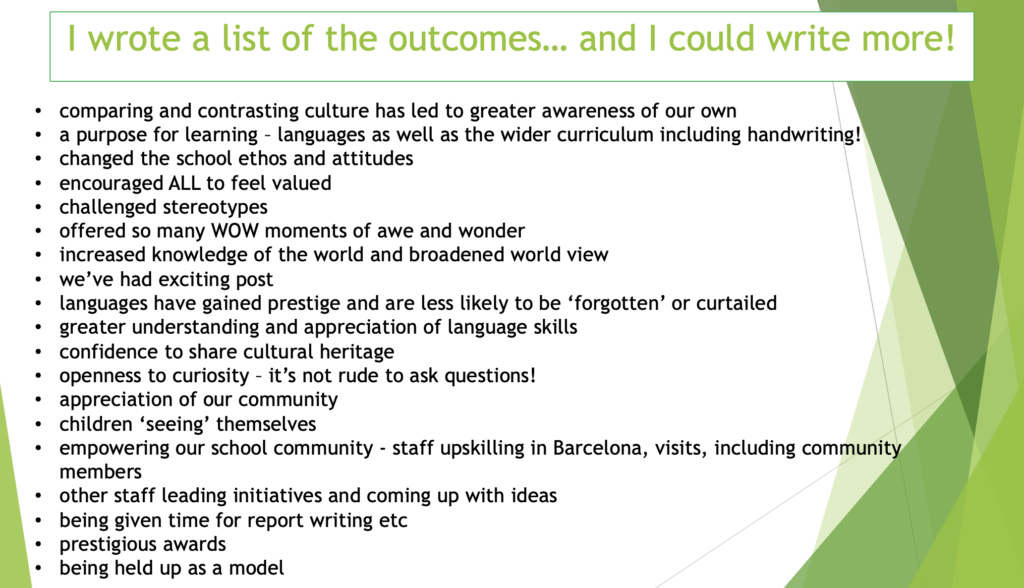 Even so, I still struggled to fit in everything I wanted to say so I wrote a summary of my points to share. You can download and read it below! If you want to see what was said and catch up with the recording, have a look at the @tmmflicons Twitter feed
And a couple of weeks ago, I spoke at Language World in Sheffield. Once more I packed in as much as I could into the time allocated, and still had more to say as I am passionate about sharing my experiences but also about the incredible value of international links and the impact it's had on our school community.
After a bit of editing, I'm happy to share my presentation but I'm afraid that the file is too big to upload; you can however view it here or, if you attended Language World 2023, on the conference website.
I am really passionate about the international dimension, the power of links between schools around the world and the beauty of collaborating. Yes, it sometimes leaves me exhausted juggling and negotiating so that everything is done but it's so worth it to see the impact on the staff, school, community and, of course, the pupils. Whilst some opportunities are no longer available to us and I still mourn for their loss, it's not going to stop me. There are still ways to make links and work in collaboration with others and I will continue to search for more!
There's a list in the summary document but a few to highlight:
If you are looking for a school for collaborations such as penpals or exchanges, particularly a French one, you can try Match My School.
The British Council has School Connect and also Partner Finding tools to help you find links and help them grow.
And the Global Schools Alliance helps create, maintain and develop links with schools all over the world.
It's also worth exploiting any links you have as a school community, and also looking to see if your town/city has a twin TownTwinning.

If you want to find out more about the WCPS International Journey, have a look at the International section of the school website and/or our Erasmus+ blog. And please feel free to contact me to ask questions or for advice via the comments, via LiPS or Twitter.
I'll leave you with a couple of comments and a sketchnote (thanks Clare!)