The Guardian is having a 'Language learning in focus'  week  and the Teacher Network has been publishing articles related to news ideas and resources for language learning.
There have been articles about why people started teaching languages, an interesting article on where we are and where we need to be in relation to language learning, ideas about how best to teach languages, references to resources in the Guardian Teacher Network and 'my best language lesson' too.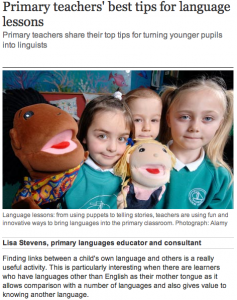 Today the article is about Primary teachers' best tips for language lessons. I was asked to contribute and along with others including Clare Seccombe, have shared some ideas that have worked in my experience.
And there's also an article on how primary schools are getting ready for 2014 from which I'd pick out two paragraphs that highlights a couple of concerns I have – and I know others share them!
"A lot of teachers would appreciate a bit more guidance and practical help, whether it's schemes of work or things they might be able to read," adds Board. (Kathryn Board of CfBT)"That's obviously not what the government wants to do – they want to provide big headlines and how you get there is up to you. But it's quite tricky because we must not forget this is a new subject, it's never been compulsory at key stage two before."
Driscoll (Patricia Driscoll, reader in education at Canterbury Christchurch University) fears the draft curriculum does not place enough emphasis on developing children's cultural understanding. "In 'purpose of study' the draft curriculum says: 'Learning a foreign language is liberation from insularity and provides an opening to other cultures.' But then when you come to the 'curriculum aims' and 'subject content' there's nothing about culture."

"Languages are taught through interactive methods but also through cultural identity and understanding," she says.
I wonder what'll be up tomorrow? There's certainly a web chat planned so if you're free between 6 and 8pm tomorrow evening (Thursday 16th) join in with your ideas about creative lessons and teaching tips!