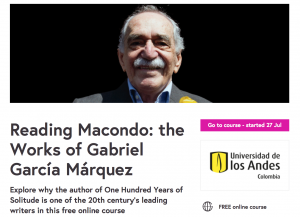 I've spent part of each week during the summer holiday taking part in a MOOC  run by FutureLearn. Their courses are free and run throughout the year and I recommend them. I took part in a course on Dyslexia and Language Learning in May and thoroughly enjoyed it. You can find out more about my thoughts and findings on that course here, and apply to join the course when it is next run here.
This course was entitled Reading Macondo: the Works of Gabriel García Márquez
Explore why the author of One Hundred Years of Solitude is one of the 20th century's leading writers in this free online course
I'd read some GGM as part of my Spanish studies at school, and then for fun later on, and the course immediately appealed as I enjoyed the books I'd read and wanted to discover more. I have to say that rereading them, guided by the magnificent tutors on the course, has been very revealing and rewarding too, and I've discovered so many links and parallels in the work of GGM that I'm more than ever convinced of his genius!
Here's an introduction to the course (shared from the FutureLearn site)
We began by looking at GGM's novellas: in week 1 we considered La H0jarasca / Leaf Storm and  in week 2, El Coronel no tiene quien le escriba / No One Writes to the Colonel.
Next, in week 3,  we looked at a selection of the short stories contained in Los Funerales de la Mamá Grande / Big Mama's Funeral.
In week 4 we moved on to consider La Mala Hora/ In Evil Hour, a short novel that is GGM's first attempt at writing something longer.
And in weeks 5 and 6 we reached his 'masterpiece of global literature', Cien Años de Soledad / One Hundred Years of Solitude.
As with the Dyslexia course, I've sketch noted each week and shared the finished notes on Twitter and with the course participants via the comments facility on the site, and I thought I'd share them here all together.
I was very excited to see this note at the end of week 6:
You may be pleased to know that we will be offering a second FutureLearn course on the work of Gabriel Garcia Marquez, which will examine The Autumn of the Patriarch, Chronicle of a Death Foretold, Love in the Time of Cholera, The General in His Labyrinth, Of Love and Other Demons, and some short stories. We will contact you with more details about the new course once it has been announced.
This will be another course from the University of Los Andes on Gabriel García Mearquez, and this time it will look at how his work developed and changed course after Cien años de soledad. I just hope that it coincides with another break from work as I need time to read and reflect that I'm not sure I have in term time!