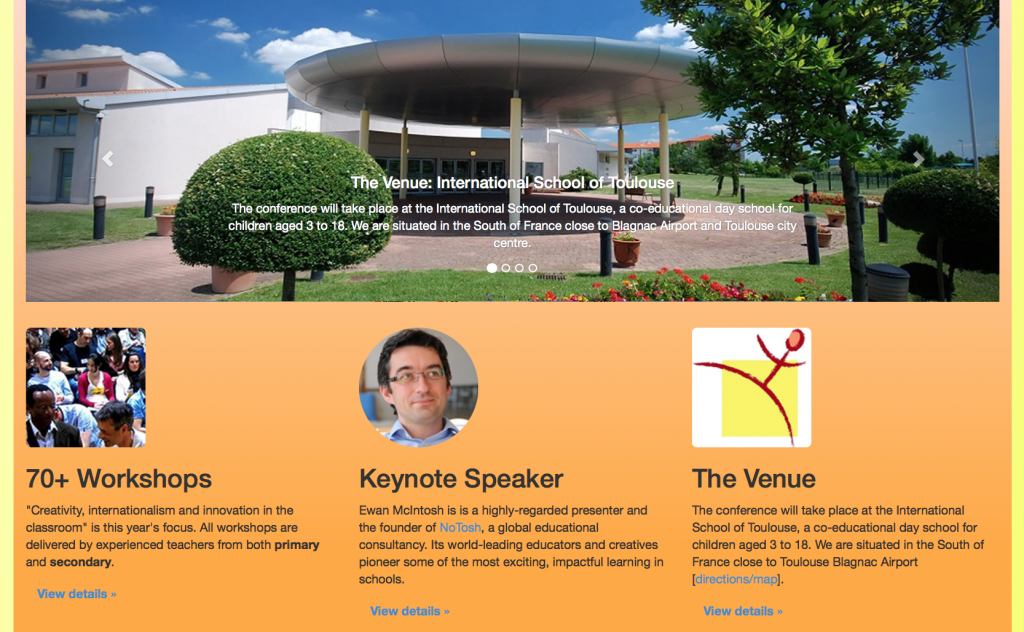 I always get excited when people invite me to speak at conferences but I was very excited when Russel Tarr (created Classtools.net and was famously attacked by Gove for using Mr Men to help teach History resulting in a mass Mr Men Twitter avatar protest in solidarity!) asked me if I'd like to speak at a conference he was planning in Toulouse. A trip to France? Don't mind if I do! And when he told me who else was speaking, I was even more excited and also perhaps a little daunted when I saw who else was speaking!
Practical Pedagogies takes place at the International School of Toulouse on October 15th and 16th and is
A high-impact training conference for classroom teachers by classroom teachers.
Two days of inspiring keynotes, 70+ workshops and networking activities: only 150 Euros!
I'm very much looking forward to the conference as there are so many different sessions under the umbrella theme of "Creativity, internationalism and innovation in the classroom" that it was very hard to choose which I'd like to attend. The programme is packed with goodies as you can see! And Ewan McIntosh @ewanmcintosh @notosh  who is keynoting and also delivering workshops always inspires and challenges!

My session will be about using ICT in the Primary Language Classroom:

There are threads for
Pedagogy, Personal and Professional development including sessions by Miles Berry (@mberry), David Rogers (@daviderogers), Bill Lord (@Joga5) and Marisa Constantinides (@marisa_c);             
Computing including sessions by Miles Berry (@mberry) and Chris Mayoh (@chrismayoh);
Drama, Music and Design and technology including a session that I want to attend on Using drama games and activities across the curriculum led by G. Fearnehough (@gfearnehough), Curriculum Leader for Drama at IST, and E. Renou (@emmanuelrenou31), Modern Foreign Languages teacher at IST;
History including a session about collaboration between History and Geography (and beyond!) led by Russel Tarr, author of ActiveHistory, and Matthew Podbury, author of GeographyPods.
Science which offers diverse sessions on data logging, helping EAL learners and using SOLO taxonomy;
English and Literacy with sessions led by Julian Wood (@ideas_factory), and staff from IST about using picture and story books to work creatively and cross curricularly (hopefully I'll get to attend one or both);
Mathematics with sessions on using Lego and Geogebra;
Assessment and reporting with a session entitles Marking:Is it really worth it?;
Tech tools including sessions by Dave Stacey @davestacey and John Sutton @HGJohn;
CAS (Creativity, action, service) and TOK (theory of knowledge);
and of course
Languages that features people I know like Isabelle Jones (@icpjones) and those who I have yet to meet like Dico Krommenhoek (@dico_kr). Oh, and me! I'm very much looking forward to finding out more about AIM and how IST use a FUN reading programme to boost comprehension and expression with their upper primary language learners.
There's still time to register if you'd like to attend. It costs 150 euros (very reasonable) and if you can get a cheap flight it's not much more expensive than two days of INSET!
And if you can't attend in person, you can follow on Twitter! You can follow the Twitter account @pedagogies and the conference hashtag is
#pracped15
It'd be great to see some of you there and if not, converse via Twitter. And of course I'll share my thoughts (and sketch notes!) on my return!