I'm conscious that I haven't posted since before school started so I thought I'd share something I've made this week.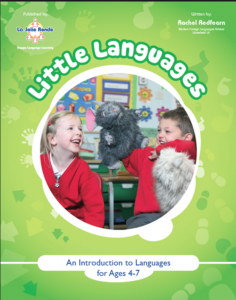 At WCPS, Foundation and Key Stage 1 teachers follow the Little Languages scheme of work for Spanish. It's simple to use, has clear instructions and best of all, builds up from a +/- 10 minute activity/ies in FS to 10- 15 minutes in Y1 and 15-20 minutes in Y2. The activities can be repeated during the week or just done once, and there's lots of repetition. Sound files are included to support the teachers (none of whom are fluent or confident Spanish speakers) and visuals too.
I'm timetabled to teach two Y2classes this half term which is great, so I'm following the same scheme but making it a bit more in depth and adding my own bits to it! At the same time, I need to ensure that the third class have a similar experience; their teacher is doing their lessons with half a class at a time as the other half go swimming and then the other half when they swap.
The last few weeks have been based around animals.
Week one we sang an adapted version of  Vengan a ver mi granja featuring a kitten (un gatito) and a duckling (un patito). We sang the song with actions then played Patito/Gatito, a game with cuddly toys.
We sent someone out of the room and hid the 'gatito'. When they returned we had to find 'gatito' by listening to the rest of the class repeating its name; the nearer the person got, the louder we said 'gatito'. One class was really good at the dynamics whilst the other needed a bit of help as they were loud from the start and didn't leave themselves enough leeway to get louder without screaming! Then we played with 'patito'. This led to horror when someone hid the cuddly in the class play oven! The next week, we added 'perrito' to the game. Very popular and the children recalled the words clearly after so much repetition.
Download wk 1 gatito patito
The next week we moved onto a story about wild animals called ¿Quién soy? in which you see small parts of a wild animal who asks ¿Quién soy? before revealing themself and saying 'Soy un elefante / un tigre / una jirafa' etc. Whilst reading the story for the first time, we assigned each animal an action and children showed they understood by doing the action on subsequent retellings. For example, un elefante was arm as a trunk; una jirafa, arm above head like a long neck; un tigre was claws in front; and un león was the same but whilst swishing your hair. They also joined in with ¿Quién soy? and some with the response too. Another game followed in which children mimed an animal and asked ¿Quién soy?, challenging their classmates to guess. Again, plenty of volunteers and lots of language. We also used masks to play a similar game with the images from the story; we looked at the clue images, chorusing ¿Quién soy?, and the child wearing the correct mask jumped up and announced 'Soy….'  
Their favourite is…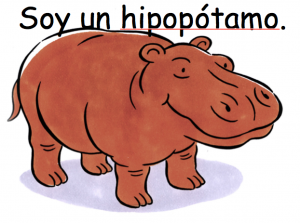 … accompanied by puffing out the cheeks (which strangely helped them to say the word!)
To continue the theme I made a simple labelling sheet with 8 animals, three of which they hadn't met: un mono, una cebra, una serpiente. This led to a really good discussion about how they could work out which animal these words matched.
'Mono looks like the start of monkey.'
'Cebra looks like zebra.' 'It starts with a s sound not a z or a c though'
'Serpiente sounds like snake because it's got a sss at the start' (that followed me reading the word with a very sibilant s!)
Download jungle animals worksheet
This week, the lesson was to be based around Alarma en la jungla. But I couldn't it. I'm sure I've got it so Im not buying another copy until I've had a good look, and I couldn't find a powerpoint or PDF online (that didn't require me to sign up to something requiring my credit card details!) so I had to find an alternative.
Step forward, Animales salvajes. This is a lovely book that I bought in Spain for 2€ which has a little rhyme giving a clue to the animal hiding behind the 'plastic page'. Look at the example below!
We'd met all but one animal so I planned to read it to the class, sharing the book so that everyone could have a look, emphasising or explaining key words to help them guess. For example, the first animal is described as 'verde' and they have a chart of Spanish colours on the wall so that gave them a clue that it wasn't the elephant! However, I was aware that my colleague in the 3rd Y2 class couldn't speak Spanish and wouldn't be able to read the book to the children. So I made a powerpoint with embedded sound for her so she could just show the pictures and turn the pages whilst the text and sound came from the IWB. And I added a question to each slide too ¿Qué es? as it's a common question that they'll hear repeatedly.
Download animales salvajes
Except we had two special assemblies so we didn't use it! However, we're all ready for next week. And hopefully the sound on the IWB in one of the classes will be fixed as the children are eager for a repeat of Veo a un animal on the BBC Primary Spanish website.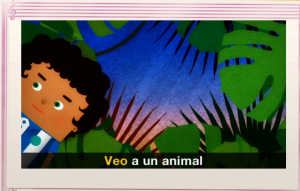 Firstly, it's a guessing song about wild animals.
Secondly, they like the funny pictures and the catchy tune.
And thirdly, they are particularly impressed because I wrote it (and all the other Spanish/French songs, games and vocabulary /information pages on the site)  and this has elevated me to superstardom in their eyes!
We did however have a great game of 'Secret leader' in which we all sat in a circle and chanted a word whilst doing an action. We sent a child out and nominated a leader who would change the action whenever they wanted (I changed the word in response to their action as it was the first time we'd played but one child did it themselves so we'll see what happens next time!). The child returned and had to work out the Secret leader.  "Oh, it's like 'Wink-faint' isn't it?" said one child which made me think of the days when we used to 'murder' each other and die violently and gorily! This class are only 6 years old though 😉 Again, a game with lots of repetition with the action reinforcing the spoken word.
I'll report back on how we're progressing at a later date. Hope you enjoy the resources I've shared.