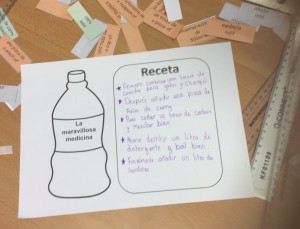 My school decided that this year we'd have a Roald Dahl theme for World Book Day on March 3rd. Children came to school dressed as characters from Roald Dahl books – so lots of Oompa Loompas, Matildas, BFGs and Willy Wonkas not to mention a Fantastic Mr Fox appearing around every corner – and lessons were to have a similar theme. Serendipitiously I had purchased a copy of La Maravillosa Medicina de Jorge during my recent trip to Mexico so a plan began to form.
I had originally thought about a dictionary lesson in which children looked up ingredients for there own 'medicine' and wrote a list. Suitably purposeful and fun at the same time. Looking at the timetable I realised that I had Year 5 and 6 on WBD so thought I would 'up' the challenge. So I did. And I'm really pleased that they rose to said challenge!
Below are details of what we did. There was too much for one lesson; in fact, to do each activity justice I'd say you'd need at least two and a half hours, if not three. One class had 30 minutes…
The lesson began with me reading a chapter of the book – in Spanish of course. The chapter, entitled El maravilloso plan, is near the start of the book and is the one in which Jorge/George considers what to do about his intolerable grandma. He toys with the idea of blowing her up or using snakes or rats to scare her but, realising that he doesn't have the means to do that, he spies her medicine and hatches a plan. It concludes with a rhyme in which he excitedly shares his plan. It lends itself well to dramatic reading and has illustrations that help with understanding, plus there are quite a few cognates. Additionally, it's three pages long so manageable!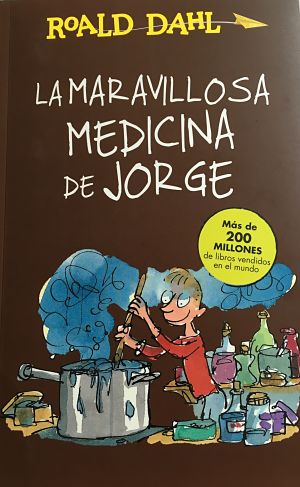 1. Listen to and follow a chapter
I copied the text* so that children (in pairs) could follow as I read and also displayed the appropriate image for the section on the whiteboard. I stopped after each section to ensure that they were following the story, and also used lots of actions and acting to 'animate' the story. It certainly engaged the classes as there was no chatting during the reading, and they were so engrossed that when I reached the part where Jorge/George jumps on the table and actually did it, they were rather shocked. Did get a few cheers afterwards!
If we'd had more time… I'd have done a 'find the word for..' activity, both in English and Spanish.
2. Read aloud a rhyming section
I read the last section then we went back and looked at it again. I decided that the first section was all we could attempt in the time we had. I read each line and the class repeated, then we read it again together. Then the class read it to each other in pairs or threes. It was a real test of their phonic knowledge as they'd only heard it three times, and had four minutes to rehearse before I asked if anyone wanted to have a go at reading it aloud to the class. There were between three and eight volunteers in each class who bravely stood and read it together, some with incredibly good pronunciation that made me want to jump up and down and squeal! I think the children were impressed too, especially as two of the classes had heard their native speaking classmate reading it aloud and hearing that it's quite tricky to get your mouth around it even when it's your first language!
If we'd had more time… I'd have worked on more of the rhyme and had groups rehearsing a section for a whole class poem recitation! Fits well with the school literacy policy and current focus on poetry.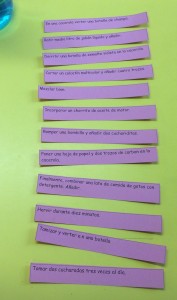 3. Listen to a recipe and put it in order
Moving on, I'd created my own 'maravillosa medicina'. I cut the instructions into strips and gave each group (threes) a set. As they listened to me reading the recipe, they put the recipe into order. They did this very successfully without much problem. Before we checked our answers using the PPT, I asked children if  they could guess any of the ingredients. They were successful with shampoo and got close to engine oil (¾ said petrol), understood that paper was included and knew that 'comida de gatos' had something to do with cats! We went through the recipe and discussed what the instructions meant.
If we'd had more time… we could have done another sorting activity with pictures of the ingredients as an extra challenge, or a 'fill the gap' activity with the text if we were feeling extra adventurous.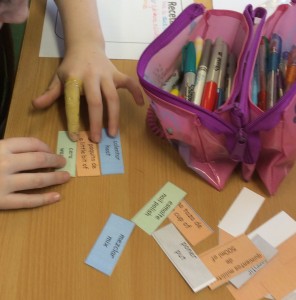 4. Write your own 'maravillosa medicina'
Using some of the vocabulary from my 'receta', I made some colour coded cards to guide recipe writing. Green = ingredients  orange = quantities and blue = instructions/verbs. Each table had a pack of words and we discussed how to form phrases using an orange and a green card, or a sentence using a blue, then orange then green card. Children then made up their own recipes for 'una maravillosa medicina' on a copy of the final slide. Some chose to work in pairs but others preferred to write their own recipe although they formed sentences together. They worked at a variety of levels: the minimum was to write a list of ingredients. Next level was to specify quantities as well as ingredients. The next level was to give instructions by adding a verb. Some children decided to aim even higher and add sequencing words such as  primero, después, entonces etc. I was really pleased to see that the dictionaries were used very intelligently by which I mean, there were very few children who tried to look up every single word. That's progress as I find that some pupils are so eager to please that they try to write overly complicated phrases rather than following the structure and adding 'glittery bits' as I call them!
We ran out of time in the lesson to do this part – most classes had about 20 minutes but the vast majority went for it and there was some great work. I asked everyone to finish their medicine for next lesson and I've promised to award prizes for the best entry in each class. To help, we looked at how to use wordreference.com 
If we'd had more time… we'd have spent time making and sharing phrases with the cards before starting to write the recipes. We'd also have spent more time in class on writing the recipes. It's always risky letting children take work home to finish…
Next week I will share the completed medicines but I hope that you get a feel for what we did in this post. I enjoyed the lesson and I'm pretty sure that the pupils did too as there was no one off task in any of the four classes, and there was a buzz of discussion about ingredients and how to construct correct sentences throughout the day. I only wish we'd had more time.
So, I wonder what the theme will be next year?
* As I photocopied one chapter of the book only, this was not a breach of copyright. Schools have a CLA license and, as I own the book, it is acceptable as detailed below. The illustrations in the presentation come from that chapter too. For more information see http://www.copyrightandschools.org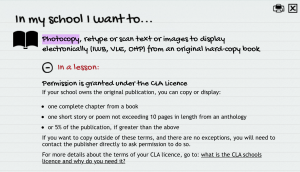 PS I did dress up as a Roald Dahl character, but not from George's Marvellous Medicine. Can you work out who I am? (I'm the one in mortal danger!)