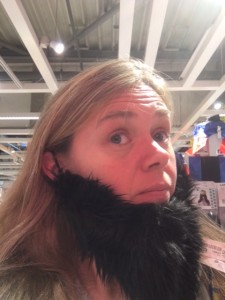 I love visits to IKEA as, along with the scented candles and plastic bags, I invariably come away with all sorts of unexpected items.
In 2008 I posted Inspired in IKEA and quickly followed it up with Inspired in IKEA part 2. I continued being inspired in on A visit to IKEA in 2010 and with Breakfast from IKEA and En la granja de IKEA in 2011. And then there was my (continuing)  love affair with Señor Brócoli.
On Friday I decided it was time for the annual trip to buy gingerbread for the tree – and a gingerbread house too as my domestic goddess status doesn't extend that far.
I always get excited when I approach the children's section but this time I nada surprise as I met the LATTJO collection  mid way around. What an exciting development!
This little video showcases the new range

IKEA have started a collaboration with world class storyteller DreamWorks Animation highlighting the power and importance of play. DreamWorks Animation brings the LATTJO world to life through more than 25 short animated stories that celebrates and expands the imaginative world of the LATTJO characters.
| | |
| --- | --- |
| Well, first of all I saw the Jenga-like stacking game with coloured bricks adding to the fun. I know that Jenga is used widely in language teaching – see Eleanor, Amanda and Erzsi's blogs! – and this could well add another dimension to its use. | |
| Then I came across these cones – great for directions, target practice with a bean bag (for practising colour, number, counting up the score etc) | |
And then I saw these number 'sleeves'. The suggestion was to put them around bottles of water to make skittles which is a great idea.

I immediately thought of using them as arm bands and making human 'skittles', not to be knocked down but for counting activities. For example, give a sum in Spanish/French/German and the answer has to stand up, or children have a pile of cards with word problems in Sp/Fr/Ger that they have to assign to the correct 'skittle'
I was also rather taken with the large inflatable die and the giant sacks but then I saw the dressing up! Oh my! I actually started jumping up and down!
I find puppets and dressing up to be an excellent way to get children talking in an imaginative way as I've shared before and here for example. So what did I see?
| | | |
| --- | --- | --- |
| | | |
Moustaches and beards. I think I look rather fetching with a beard, and you can still talk and see the mouth even wearing it!
And then there were wigs…
…and other made head gear! I was particularly taken with the snail head, and also the brain which I decided to try on but I think – well, know!- I have a very big head as it kept popping off!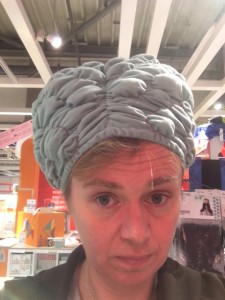 And then if you're feeling like splashing out more than £3-£6, you can get full dressing up costumes! The parts are available separately too 😉
You can also be an eagle or a bat, and you can add monster claws to make your rat scary!
Getting away from the dressing up and LATTJO, I made it to the children's department where I found some great cushions. I bought the sunshine one and I'm going to use as an incentive/ to reward excellent work. Impress Sra. Stevens and make her smile like the sun, and you get to sit on the cushion next lesson. I may yet add the cloud to my collection for excellent ideas, but, as with everything, it's where to put it between lessons!
My final inspiration came in the shape of these piglets. Can you guess my thoughts…?

Indeed. Los tres cerditos. (Their Mummy is available too!)
Oh, one last idea – these GLON templates for a house, some flats, a church-like building and a mosque-like building look great for describing the town, particularly thanks to the variety of building shape that accommodates the shapes the children I teach see around them!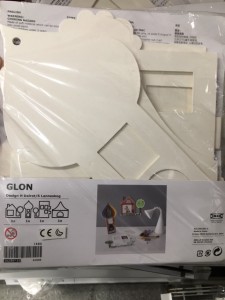 I hope I've managed to communicate my excitement. I didn't buy all the items but I may well do over time. I do have the moustache and beard, brain hat, sunshine cushion and two sets of the number sleeves though!