This is the third in a series of three posts about Julia Donaldson books that I have recently purchased in Spanish.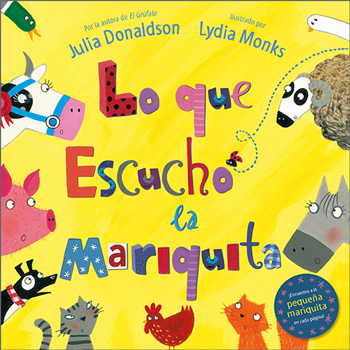 Lo que Escuchó la Mariquita is the Spanish version of What the Ladybird heard and is a 'farmyard thriller; a crime set on a farm' according to Julia Donaldson, the author. In it, two robbers, Hugo el Zurdo and Len el Largo plot to steal the prize cow from under the farmer's nose. But they hadn't reckoned on the very tiny, very quiet ladybird.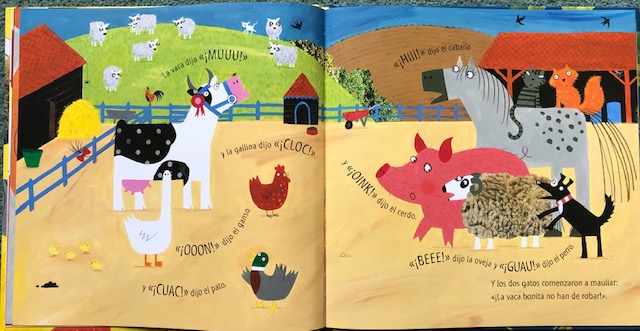 One night the ladybird hears the thieves plotting and relays the story to the animals who all make a loud hullabaloo – and then they hear the plan which make use of all their noisiness! Will they outsmart Hugo el Zurdo and Len el Largo? I'll leave you to find out! It's a great story and I love the rhyme and rhythm of the text.
How would I use this story? I'd probably read it much the way that Julia Donaldson does in the video below – but in Spanish!
The story is a wonderful opportunity to work on animal vocabulary as well as the always popular topic of animal sounds. It always amuses children that animals 'speak Spanish' too and make slightly – or sometimes very – different noises in Spanish. You could even sort the sounds into groups according to how similar they are. You could use puppets or masks to involve individuals in retelling the story or even a set of fingerpuppets or finger scribbles for each child to join in physically, or even use actions (my latest obsession with Makaton would come in handy here!) Nonetheless with little preparation of that kind, it's easy to encourage learners to join in with some noises and sound effects!

Follow up activities might include vocabulary matching at word level, some simple substitution sentences with animal and sound [La vaca] dice [Muu] or [El perro elegante] dijo [Cuac] or even some simple descriptions
La vaca es bonita y premiada. Es blanca y negra con manchas grises. Tiene un cabestro azul y un premio rojo. La vaca dice Muu.
Alternatively you could ask comprehension questions with Sí/No Verdad/Mentira responses, or at a higher level, require a response in a phrase or sentence.
And finally, how about making a map of the farmyard and giving directions around it in Spanish, or making it into a game and guiding a blindfolded classmate using only animal noises (but don't try and confuse them like the animals in the book!)
There are lots of art ideas that go with this book – you can see one below.
Looking for ideas of how to use the book, I found lots of ideas for using the English version What the Ladybird heard. I've collected them together on a Pinterest board.
It included the video below of Julia Donaldson and her husband singing a song based on the story – anyone fancy writing a Spanish version?
Some other posts and reviews of the book:
Tell Bake and Love
Ediciones Fortuna


La Mariquita appears in two further books – Lo que Escuchó la Mariquita Despúes and Lo que Escuchó la Mariquita en Vacaciones.

Do you have a favourite Julia Donaldson book? Do share in the comments if you do!