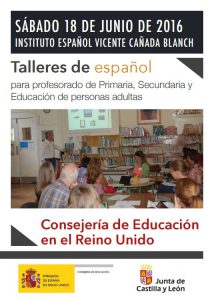 Today I attended the Talleres de español at Instituto Cañada Blanch in Portobello, having been asked to facilitate a couple of Show and Tell sessions as part of the Primary strand in the morning. Having got up very early and had several mishaps and an emergency phone call on the way, I have to admit to being a little frazzled by the time I arrived and then there were technical issues, fortunately resolved fairly promptly and well before my session.
I opened proceedings sharing a 'super lesson' on colours that I delivered to Y3. Below is my presentation from today.
You can find the poem in Clare Seccombe's anthology along with many other rhymes songs and poems.
As well as this, I mentioned various other ideas and links:
Rachel Hawkes' website – advice resources and more!
LightbulbLanguages resources – not just Primary Spanish either!
Languages in Primary Schools Facebook group – if the link doesn't work, when on Facebook search for 'Languages in Primary Schools' and it will appear. Then all you have to do is request to join. (A tip – if like many teachers, you have very high privacy settings, you'll be asked to confirm that you're a teacher so check your 'other' folder in Messages a day after your request!)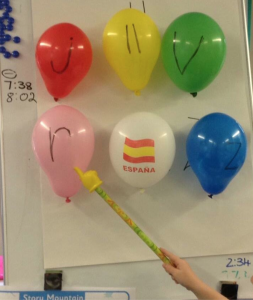 I shared Erzsi's 'phonic balloons' picture (see right) and here's her blog
Link to La Roja Baila
And then others shared their ideas! Here's a summary of them:
A activity using handkerchiefs to review colours with younger children.
Using the clothes that children are wearing to review colours – of course, easier if they don't wear uniform but not impossible even if they do…
Using the works of Miró to talk about colour, shape and prepositions. Rachel Hawkes (see above) and Helen Stanistreet (link) have produced some brilliant resources for this.
'La manzana envenada' ( a game where there are a number of words/phrases on the board, one of which is declared 'la manzana envenenada' whilst one pupil is out the room. The object of the game is not to eat/say the word/phrase that is poisoned as the game will end. Erzsi explains how she plays it here. We also talked about how it's good to get pupils asking questions as they're much more skilled at answering them than posing them!
I loved 'dictado chillado' although it was very noisy! In pairs, learners write a sentence or phrase in Spanish on a post it. It could be anything to do with a topic, or you could say it must include a certain phoneme. Ours were very random! The teacher then muddles up the phrases and hands one to each pair. Everyone then stands against the wall on two sides of the classroom (left/right or back/front) opposite another pair. The idea is to shout your phrase to your partner pair who write it down. I thought my partner pair were yelling 'Vivo lejos de José' but they in fact saying Mi conejo se llama José. Either I yelled better than them or it was pair work that won the day as they got 'Me gusta mucho Gerard Pique' straight away!
I do feel bad that I've failed to sketchnote a session today, especially after my sketch noting was mentioned in by both of the people who introduced me,  but I'll try and make up for it later with one of the whole day perhaps! In the meantime, you can see some of them in my Flickr album.
I thoroughly enjoyed the session I attended run by Canela Fina, and I think that all conferences should end with an educational wine tasting!
¡Muchas gracias a la Consejería de Educación y la Junta de Castilla y León para un muy buen día!