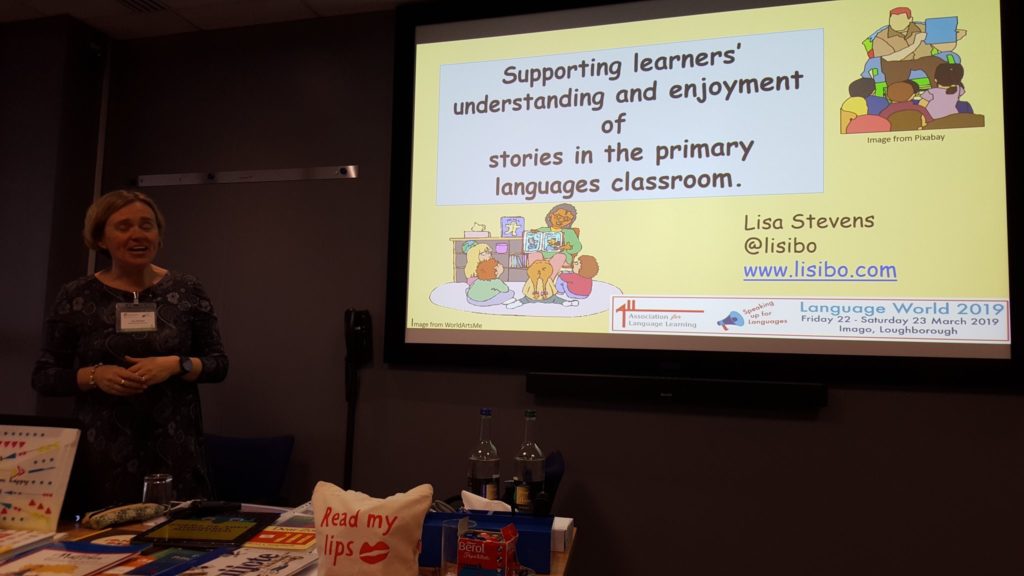 It seems a long time since Language World 2019 (it is three weeks I guess) so I apologise for the delay in uploading my presentation here; I've had a few website issues.
However, here it is, and below are some notes that you may find helpful in recalling what I said, or trying to decipher the slides! You'll also find below Clare Seccombe's lovely sketchnote of the session which summarises what I said as well!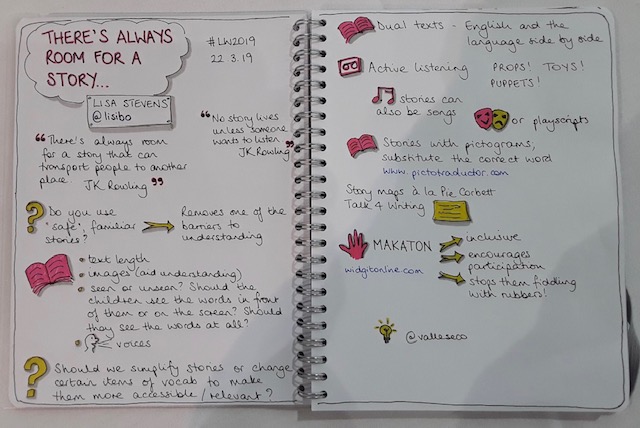 Links on Pinterest that accompany this presentation : https://www.pinterest.co.uk/lisibo/supporting-storytelling-lw2019/
La Belle au Bois Dormant resources from Bernadette Clinton

A post I wrote related to using Pictogramas – Leyendo con Pictogramas

Examples of stories and poems in pictograms – Coleccíon de Cuentos con Pictogramas and also Super colección de cuentos realizados con pictogramas Y ACTIVIDADES
Pictocuentos
Pictotraductor
Pictoaplicaciones
Unfortunately I haven't managed to find an equivalent for French or German.
WidgetOnline is a subscription website that allows you to make visual stories similar to the Pictoaplicaciones suite but in English, or other languages with an add on pack.
I wanted to share more about using Makaton and to highlight that there are a number of free as well as reasonably priced resource packs that can be downloaded from Makaton.org
I got the materials to accompany my retelling of Dear Zoo/ Querido Zoo from there and then translated them/applied them to the Spanish story.
And there's an article on Using Makaton in Storytelling that you might find interesting.
Ten in the Bed songs :
In Spanish – Diez en la cama
In French – Dix au lit
In German – Zehn im Bett
Download the Makaton signs here to accompany the story/song
And watch the story told in English and Makaton by Rob Delaney below:
Finally, I had a pile of books to share but completely forgot with the pressure of time so here are screenshots from a couple. Firstly, Don Quijote de la Mancha which has the 2 USPs of being an authentic Spanish text, and also being written in Spanish 'handwriting', and El Pájaro, el Monoy la Serpiente en la Selva which is a charming story about living and working together.
If you have any comments or questions, please leave them below, or you can contact me via social media!