#30DaysWildMultilingual June 2021
May 30, 2021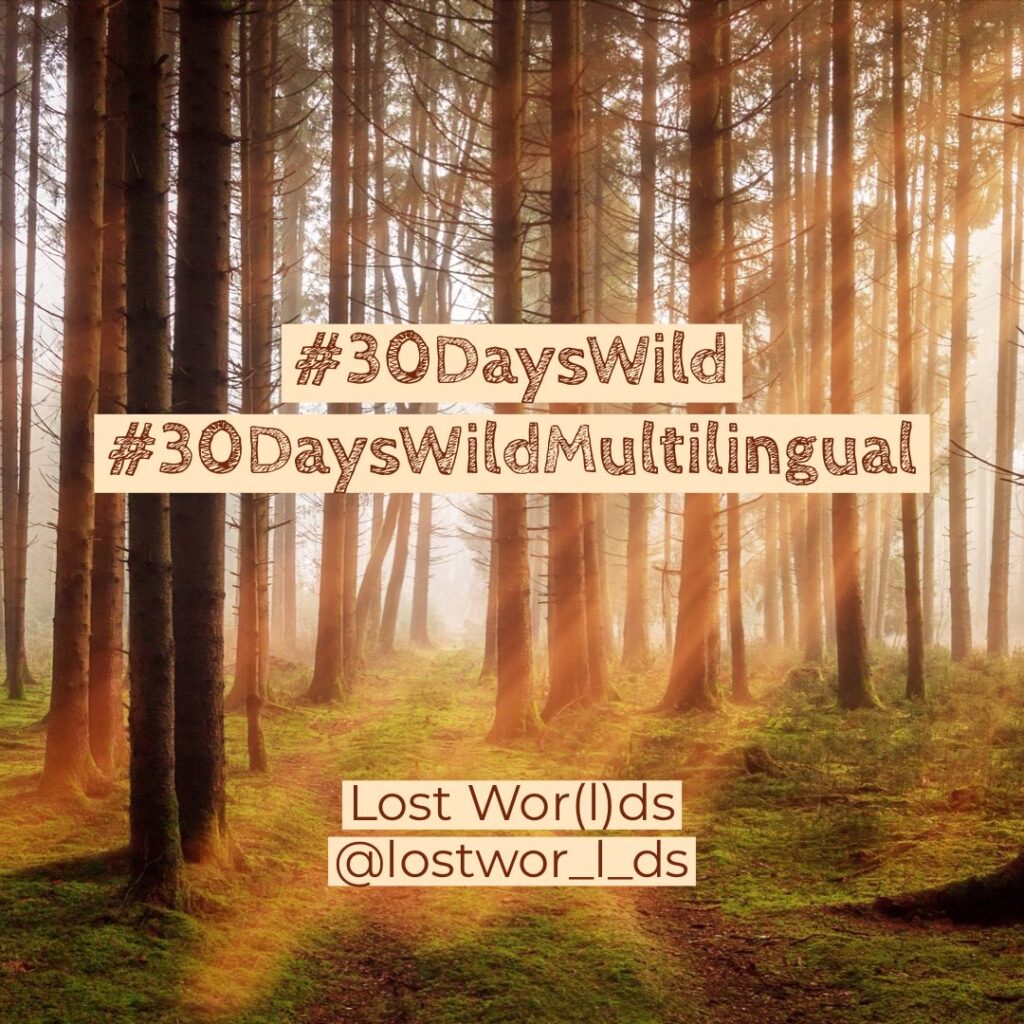 I love being in nature, whether it's running, walking or just loitering. In recent times, this has become all the more important to me, not least as a way of finding peace and calm in a world that seems to have gone bonkers. I don't think I'm alone in this either! There seems to be an increasing awareness of the value of being outdoors, partly because it's been the only way to meet until recently but also due to a new habits formed by being 'locked down.' With all this in mind, I was so excited to find a tweet today about #30DaysWildMultilingual.
Every year in June, The Wildlife Trusts run the 30 Days Wild challenge – a challenge to do an activity linked to nature, every day, for the whole month, and Multilingualism in Schools decided, in conjunction with their local Wildlife Trust in Sheffield, that they would like to create a language based challenge aimed both at those learning a language at school and those who are growing up multilingual. Each day of June there is a simple challenge linking languages and the natural world that can be completed by children (and adults!) of all ages. They include finding the names for flowers in other languages, counting hops, litter picking and eating outside. Some can even be linked to our topics (likes and dislikes, weather and colours)
I'm really excited by this and will be sharing it with learners at both my schools as an enrichment activity. I recently asked children what sorts of things they would like to do to make language learning better; challenges, and activities in different languages came up so this is serendipitous. The Multilingualism in Schools Twitter account @LostWor_l_ds will tweet an activity a day using the hashtag #30DaysWild and #30DaysWildMultilingual but you can download all 30 challenges from their website or below, and complete as many as you want, whenever you want!
Even if you aren't able to join in with all the activities, why not choose one to complete with your learners as a one off lesson? For example, why not use the Cloud spotting task as a way to practise using a bilingual dictionary, or as a way of exploring other languages using Google Translate or online dictionaries?

Or learn a song about nature and take it outside to sing (although we're allowed to sing inside now, it's far better outside, especially if this lovely weather continues!)

For me, although I teach Spanish at both my schools, language learning is about languages plural, and it's vital that ALL languages are seen as important, especially those spoken and/or understood by our school and local communities. I really hope that children will use these challenges to share their own languages and also explore others as well as – or even instead of – expanding their Spanish vocabulary. I'm also looking forward to children getting outside and exploring, appreciating the school grounds as well as their local environment.
If you do join in, make sure to tweet @LostWor_l_ds and use the hashtags #30DaysWild and #30DaysWildMultilingual or, if you don't use Twitter, email lostworlds@sheffield.ac.uk or leave comments on their website.
There's more to explore on the LostWor(l)ds website – expect another post in the near future!
If you're interested in the wildlife aspect particularly, it's also worth checking out your local Wildlife Trust website for details of events near you. I've found that my local one – Birmingham and the Black Country – are planning special events (not language related) for the Big Wild Weekend including a camp out, a quiz and talks from experts.