El Día de Conmemoración y la paz.
November 7, 2018

With 11th November coming up, particularly with the 100th anniversary of Armistice this year, my school has had been planning whole school activities to commemorate Remembrance Day. I like to join in – it's a good way of keeping Spanish visible and also an opportunity to be creative.
With Spain not involved in WW1 or WW2 and not celebrating Remembrance Day as a national event, this left me with a challenge. I decided to focus on peace and, having discovered that I would only be teaching Y5 and 6 this week,  to share some Spanish history.
We began by discussing what Remembrance Day is about, and I asked what they thought Spain's role was in the World Wars. It was a good opportunity to clear up some misconceptions about who was and wasn't involved! I then went on to talk a little about the Spanish Civil War in the most basic terms. We talked about the difference between a monarchy and a republic, discussed what an economic depression is and about why the Nationalists might have revolted. I showed them Guernica by Picasso (as they are familiar with him) and told them about that particular episode. It was supposed to be a quick resume of what happened as one of the reasons why Spain weren't involved (one of the pupils suggested 'They had no one to send to fight; they'd all killed each other!') but the pupils were really interested and wouldn't stop asking questions. In the end I asked them to save the questions for when they were doing their written task, and I'd happily try to answer them then. They stuck the poem in their exercise books, and recorded a couple of sentences about what they'd learned about the Spanish Civil War or Remembrance or peace.
Poem El dia de la paz to download as PDF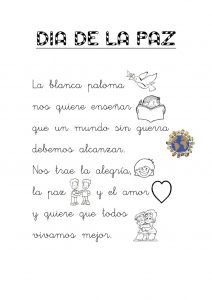 The second part of the lesson was about peace; poppies help us remember those who died in conflicts, but also remind us of man's folly, how we should learn from the past and seek a peaceful future.  I found this simple poem that I read, then pupils read with me. I asked them to discuss with a partner what they thought the poem might be about and why, using all clues like the illustrations and cognates to help them. We discussed together what it meant then read it once more in groups. I'd found some poppy templates and provided some sheets of the word PEACE in a variety of languages. For example this image or this one. Pupils decorated the poppies with the word peace in languages of their choice as a demonstration of their wish for peace in our world. We discussed the meaning of different coloured poppies – the most well known red, purple for animals and white to remember all those who died in war including those who refused to fight and those who committed suicide as well as a commitment to peace. (I didn't know about black poppies until I saw this video today!)  I also mentioned that in France people wear bleuets for Remembrance Day, cornflowers which also grew in the fields of France. Pupils kept these colours in mind as they decorated.
I taught Y5 on Tuesday and you can see some of their poppies below. I really enjoyed the lesson and think that the children did too, judging by the incessant stream of questions! Y6 tomorrow.