German books from my holidays
August 19, 2017
I've just come back from a lovely holiday in Bayern during which I tried hard to use my German – with some success including a heated discussion with a woman in Königssee about passports and plenty of food discussions.
As usual I found myself drawn to bookshops (and dirndls but I resisted those!) and made a few purchases as you can see:
Elefanten-Sommer is a lovely PixiBuch about a little girl called Lina and her elephant, Rufus. They 'trumpet' together and are happy until Rufus does something naughty…
And Kasper Mütze is a PixiBuch that contains two stories about Kasper Mütze – Kasper Mütze hat Geburtstag and Kasper Mütze hat Besuch. Each page is very simple and rhymes, the phrases are quite repetitive which is great for me – and for my planned German club who will all be beginners.
Und heut ist Montag – I love Eric Carle books and I'm familiar with this one in English and Spanish so when I saw it in the bargain bin for 2€50 I snapped it up! Days of the week, food and animals – lots of possibilities. And it can be sung too!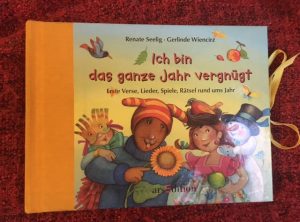 And then I saw this book Ich bin das ganze Jahr vergnügt in Salzburg when I was sheltering from torrential rain in a Buchhändlung. Lots of rhymes and songs for different times of the year, some with actions (like In dem Walde steht ein Haus) and others with music. I particularly liked the two above; on the left, a poem with the days of the week, and on the right a poem I could use to introduce a Christmas tradition from Switzerland  called Räbechilbi.
Finally, at the airport I found two magazines that I thought might be interesting to children – and me!
National Geographic Kids is very colourful and has a variety of lengths of text in it as well as quizzes and interesting facts. I particularly like the bilingual facts signalled with the two flags which allow you to compare German and English, and also Check diese kuriosen Fakten. I'm very tempted to enter the competition too – think I might need to find a child to enter for me though…
And Dein Spiegel is the children's version of the famous Der Spiegel. It's more complex than National Geographic Kids but there are short news items like the one about the boys in England wearing skirts to school as well as longer articles about Sport, Natur, Kultur, Menschen, Wirtschaft and Politik. I'm hoping that I might learn something about the upcoming elections by reading the section below right. And then there's the jokes page. Some are a bit complex for me but I like the two below left – my trumpet playing son particularly likes the one about the violin and cello!
I might have spent far more money but tried to restrain myself!