Reporting back from #PLN17 29.06.17
July 4, 2017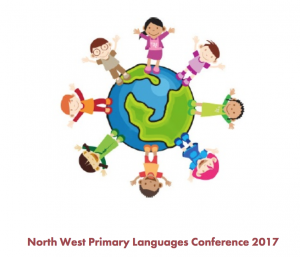 On Thursday, I had the privilege – and it really was a privilege – of delivering one of the keynotes at the Primary Languages Network conference in Lymm. It was a day jam packed with ideas and demonstrated the power and value of a community of teachers and learners, bouncing ideas of each other and sharing their light bulb moments. And celebrating those ideas too.
I did my best to sketch note all the sessions, including the Spotlight sessions, and you can see them below. I would recommend that you follow the PLN blog to keep abreast of all the fantastic ideas that spring out of the network (This post was inspired by the day), and even consider joining for further support and inspiration!
Thanks to Janet for inviting me – I had a wonderful day! You can see some of the highlights in the video at the bottom of the post!
Details of my session will follow in the next post!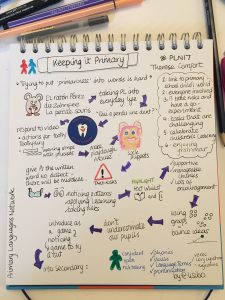 Keeping it Primary – the wonderful Therese Comfort shared what makes Primary language learning so special, with special stickers from La Petite Souris/El Ratoncito Pérez/ die Zahnfee.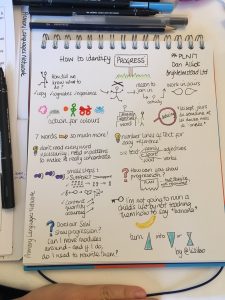 How to identify progress – Dan Alliot talked about what progress looks like in primary language learning, and challenged us to flip the triangle so it's not always point first!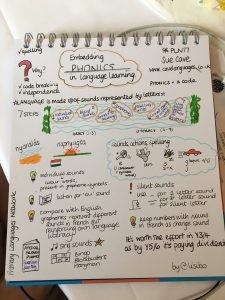 Embedding phonics in Language Learning – Sue Cave challenged us to pronounce Hungarian words using phonics to support us, talking us through the 7 stepping stones to 'code breaking' and sharing ideas of how to practice and reinforce phonics in French.
Throughout the day there were Spotlights – shorter presentations of one or two ideas each from PLN associates and also exhibitors. I've tried to capture them all in the above – some with more success than others (spot the pig that looks suspiciously like a cow!) Ideas included songs for EDL, games, purposeful writing activities using technology, AR dragons, using actions and creating raps and poems.
SaveSave
SaveSave