Eins zwei drei Tier / Tierbabys
July 28, 2017
On a recent flying visit to Switzerland I found myself in Orell Füssli at the airport and made a couple of purchases.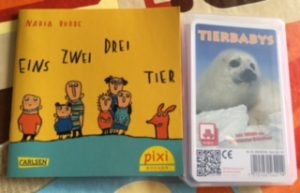 Firstly I had a good rummage in the Pixi Bücher 'bubble.' (Should've taken a photo of it as I can't find one anywhere!) For those unfamiliar with Pixi Bücher, they are tiny (about 10cm square) paperback books that cost about 1 euro 50 or 1.90 CHF. There are a variety of types including stories, information books and sticker books.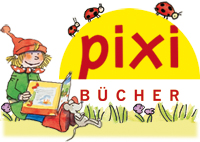 I was immediately drawn to  Eins zwei drei Tier as it has an amusing cover and on opening it, I decided that it would be a good buy for my upcoming German club at school as it's very simple. Each page has four characters on it; on the first page, three people are followed by a wolf; on the next, three wolves by a pig and so on. Each image is accompanied by a word, the third of which rhymes with the fourth which is the name of the animal.  Some are names, some adjectives and some prepositions. Hopefully this image explains it if you don't get the idea.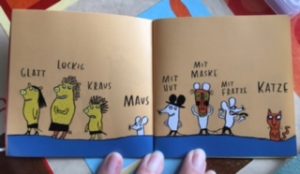 I thought it would be good to read the book then give learners a list of the animals and see if they could predict the name of the animal in fourth place each time the next time I read it.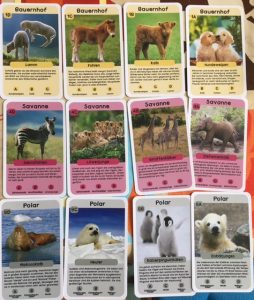 My other purchase was a set of cards called Tierbabys. I thought that they were Top Trumps with statistics on, and had envisaged using them to rehearse numbers and the like in the context of animals, but they're actually for playing Happy Families, with four animals in each of eight 'families' grouped by environment in which they'd be found. Interesting from a vocabulary point of view – how do you say foal in German? And calf? What does junge mean? And küken? And also good for rehearsing the question "Hast du…" as well as manners – Danke to say thanks, Es tut mir leid to say sorry you haven't and so on. So not quite what I'd envisaged but still useful. And the baby animals are very cute too!
We're off to Germany on holiday this summer so I expect to add more to my collection ready for September and my long planned German club at school!
SaveSave