Veo veo ¿a quién ves? – un libro animado con solapas
June 1, 2017
As I came towards the end of sharing the books I bought in Bilbao at Easter, it dawned on me that I'd bought some lovely books in Barcelona last May and not shared them. Here's one of them!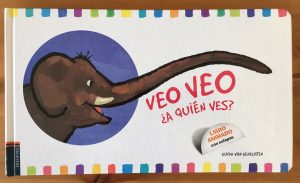 I was initially drawn by the title as it reminded me of the game (similar reason why I bought the book I shared a couple of weeks ago, also called Veo Veo ); I explain the game in this post and also here.
However, I was even more excited when I opened the book.
I love a flap book as I find that they offer an extra something when you read them aloud, adding a mystery that needs solving, a secret that needs discovering. And they really engage learners who all want to uncover what lies beneath, a great classroom management tool with young kids as you only get to open the flap if you're sitting quietly.
It's on a favourite theme of mine, animals, one that is often revisited in the time learners spend at my school. 
There are twenty animals featured in the book, but each page focuses on 5 of them, with a single sentence leading to the identity of one of those five animals. Therefore the possible answer is limited to one of those five, making it easier for young learners or beginners to offer a suitable answer. 
Each clue is a single sentence followed by ¿Quién soy? and are mostly very simple. Some are simply the noise that the animal makes, others refer to the physical appearance of the animal and others talk about the preferred food of the animal.
Lifting the flaps is fun enough but each opened flap on the page adds to the picture of the next. Hard to describe so I've videoed it. Very clever!

I have another book called Animales Salvajes that has much longer clues to the identity of an animal that I've used with Y2 and whilst they enjoyed the book, the longer clue went over their heads (although I enjoyed them!) and their guesses were more random based on the images rather than the Spanish. This book would work better for them, but the animals are not specifically jungle animals so I guess I'd have to write my own…
…and writing our own version would be a really simple and fun activity for older learners to share with younger ones. Perhaps one I'll try out with Y6 as they continue on their learning abut verbs and recap all that they have learned over their years of Spanish.
And finally, there are actually 21 animals in the book with 'un regalo' on the final page!