Mi dragón y yo (David Biedrzycki)
June 2, 2017
|
Posted in
books
,
ideas
,
LiPS
,
literacy
,
MFL
,
primary languages
,
reading
,
rhymes
,
songs
,
spanish
,
speaking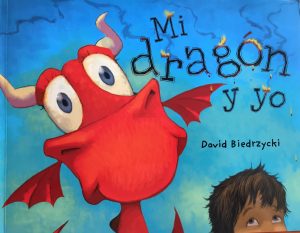 On my trip to London on Tuesday I paid a flying visit to the fourth floor of Foyles where all the language books are found. Although I was limited in the time I could spend there – 25 minutes! – and I imposed a spending limit on myself too, I still managed to come away with a couple of books.
Mi dragón y yo is a very simple book about a boy who doesn't want an ordinary pet and dreams of having a dragon. He sets out to explain what kind of dragon he would like. He talks about what it would not be like first before saying all the things it would be able to do, all the things he'd do with it and how he would train it. It's written in the conditional
– me gustaría, tendría, le daría, le enseñaría – but I don't see that as a problem as the illustrations make it clear, and in fact the conditional is sometimes easier to decode as the infinitive that you'd look up in the dictionary is easier to identify (usually!)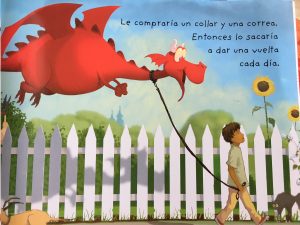 It's a great book to read as part of a topic on pets and could lead to pupils rewriting the story
"Algunos niños quieren un perro. A otros les gustaría un gato. Yo quiero…." inserting their own animal before going on to describe it:
Sería ………. – It would be ………. This could be colour and character.
Tendría……….. – It would have …………… Here they would describe the pet; a tail? a big head?
Le daría el nombre …..  – I'd call it……
Le enseñaría a …. – I'd teach it to….. Add some verb infinitives
Le compraría … – I'd buy it ….. Clothes? Food? Toys?
Comería… y bebería……. – It would eat…. and drink ………..
Viviría …………. – It would live….
and so on.
Very simple and easily done with some dictionary skills and a bit of imagination, and easy to extend with some conjunctions, negatives and so on.
For younger learners you might just read the story and invite them to draw or colour their own dragon then describe it orally using colours and size or in written form by labelling it or filling in a gapped sentence. Here are some dragon templates you might use:
There are lots of other dragon ideas and resources around.
In a quick search I found many other dragon stories including several on Youtube. I've pinned a lot of them onto a Pinterest board Dragons but a few highlights are below:
Ramón el Dragón is a lovely song about a dragon called Ramón (obviously). It rhymes and has a very simple chorus, telling the story of Ramón's very simple life. You can see the lyrics on screen but can read it as a class poem using the lyric sheets here.
And I like this story about El cumpleaños del dragón as it is simple, is in Spanish with English subtitles and has a message about having tantrums!
And if you're looking for a story to read that has a message, I liked El dragón que escupía chocolate. And Nattalingo recommends El dragón frío on her blog.
There are lots of ideas too; Janet Lloyd's Primary Languages Network shared some excellent ideas based around How to train my dragon for world Book Day last year. Erzsi Culshaw shared some clothes peg dragons to celebrate San Jordi. And Ruth Kidd has shared some lovely French triaramas of her Y5s describing dragons on the Languages in Primary School group. In fact, if you search 'dragon' on LiPS you'll find several more ideas!
Hope you found that helpful. It certainly kept me occupied during a rainstorm!
Oh, and I almost forgot! I saw another book that I was really tempted to buy. It's a lift the flap book about dinosaur poo! Perhaps another time…